The Parador® of Cruz de Tejeda is near the village at a height of 1,560 metres above sea level, almost in the centre of the island of Gran Canaria.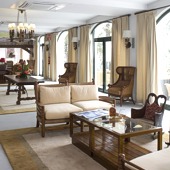 It is located in a mountainous area overlooking Roque Nublo with gullies and cliffs leading down into the sea.
The building is outstanding for its magnificent views over the island and for the huge rock cross presiding over the entrance.
Accommodation at this Parador® consists of twenty three twin bedrooms, seventeen rooms with double beds, one junior suite and two easy access rooms.

All bedrooms have free internet access, hair dryer, minibar, safe, telephone, TV canal plus and air conditioning.

The Cruz de Tejeda Parador® is equipped with air conditioning, heating, bar, conference suite, parking (20 places - without security) and a restaurant.
Other facilities and services include gymnasium, spa, currency exchange, bus parking facilities, free internet access in communal areas, gift shop, lift, satellite television, telephone and garden. The swimming pool is part of the SPA (prices and conditions apply).
At the Parador's® restaurant guests can choose from typical local dishes such as:
"Baifo", kid;
"Potaje de berros", watercress hotpot;
"Conejo en salmorejo", rabbit in sauce;
"Papas arrugas y mojos", wrinkled potatoes with a hot sauce;
"Bienmesabe de Tejeda", a kind of almond syrup dessert;

The restaurant also has a special glutin free menu.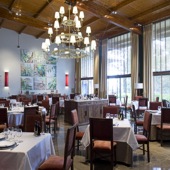 Gran Canaria is the third largest island in the Canary Islands and has the largest population. It is often described as a "continent in miniature" because of variety of habitats.
Las Palmas de Gran Canaria, in the North East of the island, is one of Spain's largest cities and the second-largest port in Europe.
The island of Las Palmas has a beautiful climate and many fine sandy beaches. There are many historic buildings and it is a wonderful place for all water sports.
Cruz de Tejeda, is in the center of the island, 9 kilometers from the town of Tejeda, near Roques Nublo and Bentayga and is 34 kms from Las Palmas. The Parador® is 45 kms from the tourist beaches at Playa del Ingles.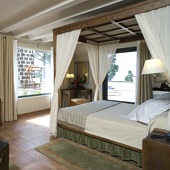 Local festivities include the Almond Blossom festival in the first 2 weeks of February, the Virgin of Soco Tejeda in the second week of September and Carnival in February.
Interesting places to visit while staying at the Parador® Cruz de Tejeda include the Abraham Cardenes Sculpture museum, the Anthropology museum, the medicinal plant centre and, of course, the El Nublo Nature Reserve which is adjacent to the Parador®.
The nearest airport is about 55 kilometres away and the nearest Port is approximately 35 kms away.
Pets are accepted in this Parador® (conditions apply).