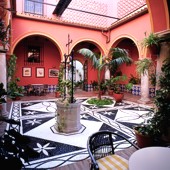 Located on the banks of the Guadalete, this Parador®, formerly the Casa del Corregidor, has an impressive panoramic view of the fertile plain of the river and of the old part of Arcos de la Frontera.
From here, you can take two magnificent tours: the one of the "Pueblos Blancos" (White Villages), leading you to the wonders of the Grazalema Natural Park and the wine route, taking you down to Jerez.
The Arcos de la Frontera Parador® has 15 twin, 5 double and 4 single bedrooms all having satellite TV, mini bar and safe.
The bedrooms with terraces offer magnificent views of Arcos and inside the typical Andalusian courtyard there are traditional decorative elements such as latticework and ceramic tiles.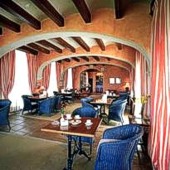 The Parador® of Arcos de la Frontera has air conditioning, bar, restaurant, facilities for the disabled, heating, piped music, cable TV, telephone, wireless internet, currency converter, elevator and gift shop.
The parador® group serves the regional dishes in all their restaurants and each has a gluten free menu.
The specialities in this region are: "Pescatos fritos" from the Cadiz area which are small fried fish;
"Urta rotena" which is a fish dish;
"Rabo de toro" which is the tail of the bull;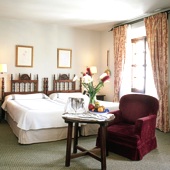 In Arcos de la Frontera, you should visit the Santa Maria and San Pedro churches, the Castle and the Palaces, the Art Gallery, and the carpet factory. Also follow the route of the "Pueblos Blancos", going from Arcos to Bornos, and the Route of the Wine.
The Easter celebrations at Arcos, have been declared of International Tourist Interest. Discover the traditional "Aleluya bull burial", which takes place on Resurrection Day. Visit also the Horses Fair in Jerez de la Frontera, 20 miles away from the Parador®.
Get to know the Sierras (Mountains) de Grazalema natural Park, and the lake of Arcos. These areas are good for hiking, riding horses, and hang gliding. You may also play golf on one of the courses near the parador®.
Distance from the nearest airport is approximately 35 kms, train station is 35 kms away and the nearest port is 70 kms away.