The Ronda Parador® is situated in the former town hall, in the centre of the city. It is located in a very interesting spot next to the well known Puente Nuevo in Ronda.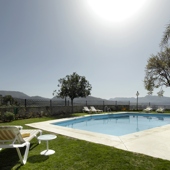 From the hotel windows guests may look down to the bottom of the 120 metres deep gorge.

Inside colourful materials adorn the sofas and have been made into curtains. These bright and spacious living rooms have an abundance of plants while the bedrooms and comfortable split-level suites have beautiful views of the town or the swimming pool.
The menu in the Parador® restaurant has local and international dishes. There is a special menu for those on a gluten free diet.
The Parador® group is well known for local cuisine. and this Parador® has an excellent selection of dishes from Andalusia such as stewed partridge, roast kid, rabbit "a la rondena", almond soup, "ajo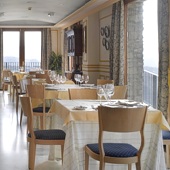 blanco" (cold garlic soup) and "salmorejo".

The regional desserts to try are "Yemas rondenas" (sweet egg yolk flans), "tortitas de miel" (cake with honey) and "queso de almendras" (almonds and cheese).

In Ronda, visit the New Bridge, the Cathedral, the Minaret of San Sebastian, the Mondragon Palace, and the bullring. Also the ruins of Acinipo and the prehistoric paintings of the Pileta cave.
While in Ronda, attend the Royal Fair held from 20-22 of May; and the festival of Pedro Romero in the second week of September which include the traditional "corrida goyesca" (Goya-style bullfighting).
Explore the Nieves and Grazalema Natural Parks either by foot or on horseback.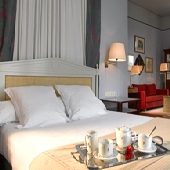 You will want to swim in the pool at the Parador® that gives incredible panoramic view.of the town, the gorge, the mountains and the hills.
This Parador® has sixty one bedded rooms, ten double bedded rooms and eight duplex rooms.

Each has a telephone, television, safe, TV canal plus and a mini bar.
The Parador of Ronda® has heating, air conditioning, piped music, gift shop, a restaurant and bar, currency exchange, lift, paid garage, satellite television, free wireless internet, garden, seasonal swimming pool and conference facilities.
Distance from the nearest airport is approximately 120 kms, train station is 1 km away and the nearest port is 125 kms away.