This spacious, quiet Parador® is surrounded by lush green gardens, a refreshing swimming pool (seasonal) and is close to the provincial towns of Andalusia.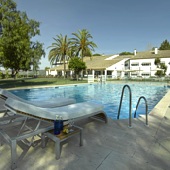 Antequera has a rich historical and artistic heritage. It was used by King Fernando, the Catholic, as the base of operations during his Granada campaigns.
The town is surrounded by a fertile plain and "El Torcal", an area with interesting geological formations.
This modern Parador® Antequera is ideal for holding social gathering and, for those who want to experience total relaxation, this is the perfect retreat.
The Antequera Parador® has 4 double bedrooms, 48 twin bedded rooms, 4 junior suites and 2 rooms for the disabled. All the rooms have air conditioning, TV with canal plus, free internet access, minibar, safe and telephone.
The rooms are spacious and decorated in light shades of colour which compliment the rich wood of the ceilings, walls and floors.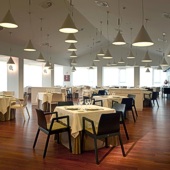 The modern leather furniture is classical and functional in style and the impression is one of relaxed elegance.
The restaurant, as is usual in the Paradores®, specialises in the traditional local dishes of the area, in this case, Malaga. It also has a gluten free menu.
You may care to try: "Porra Antequera" a cold vegetable soup;
"Gazpacho" Andalusian cold soup;
"Pio Antequerano", cod fish dish;
"Gallina en Pepitoria", chicken stew;
"Bienmesabe", sponge cake;
Worth visiting are the Arab Castle, the Arco de los Gigantes (Arch of Giants) or the Church of Santa Maria Mayor.
The village of Archidona is only 18 kilometres away and is also worth visiting.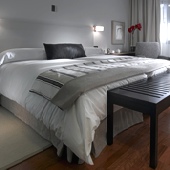 There are a number of fiestas held in Antequera including the Farming Fair held in May, the August Fair and the Feast of the Virgin de los Remedios held in September.
The Parador® of Antequera is heated and is air conditioned, it has a restaurant and bar, seasonal swimming pool, conference room, facilities for the disabled, parking facilities (without security and limited places), currency exchange, free internet in communal areas, garden and children's playground, free wireless internet, cable TV, piped music, lifts and a gift shop.
The bar and coffeehouse, by the pool and gardens, feature an outdoor dining area that is available all year.
Distance from the nearest airport is approximately 60 kms, train station is 2 kms away and the nearest port is 49 kms away.