The snow capped peaks of the Pyrenees, the clear blue skies and the green luxuriant valley of Val d'Aran is the setting for this Parador®.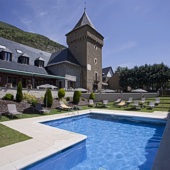 The Parador® of Arties is of recent construction using the local style of architecture.
The site is that of the House of D. Gaspar de Portola whose claim to fame is the discover of California.
There is a steeply sloping roof so that a heavy weight of snow will not accumulate. The bedrooms have dormer windows looking over the roof. This traditional mountain design is also in the wooden beams featured in the bedrooms.
The lounges in the hotel are spacious and tastefully decorated among which the Salon Chimenea particularly stands out.
The restaurant features the specialties of the region which here are: "olla aranesa" which is a local version of a stew;


"trucha a la llosa" a fish dish made with local trout;
"civet de jabali" which translates as jugged wild boar;
"pescajus de Arties" a local delicacy;
The Arties Parador® has a total of thirty eight twin bedrooms, nine double bedrooms, three suites, seven duplex rooms and two easy access rooms, all with TV canal plus, telephone and mini bar.

The Parador® has air conditioning, free internet access in communal areas, garden, heating, lift, currency exchange, parking facilities (without security and with limited places), garage, piped music, restaurant, bar for residents, cable television, telephone and a gift shop.
There are conference facilities for up to 240 persons. There is a swimming pool, sauna and gymnasium, children's play area and games room. Other facilities include heated swimming pool (exccept July, August and first half of September), seasonal outdoor swimming pool and two treatment rooms..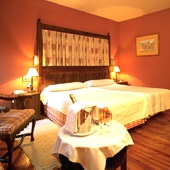 In Val d'Aran several of the villages have old churches in the Romanic style. The one in Santa Maria de Arties is particularly worth a visit. In the same village the old Roman baths are still preserved.
There are three local feast days in the area. On June 24 it is the feast of San Juan, in Arties. In the same village the feast of San Jaime is celebrated on July 25th. The Cattle Fair in nearby Vielha is also a festival not to be missed.
For skiers, the Baqueira Beret station is four and a half miles away.
Distance from the nearest airport is approximately 157 kms, train station is 147 kms away and the nearest port is 325 kms away.