This welcoming mountain hotel is located on the western slopes of the mountains now designated as the Ordesa National Park.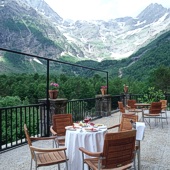 This part of the Pyrenees is noted for its pure air and the clear waters of its streams and rivers.
From some of the comfortable bedrooms there are beautiful views of this mountain scenery.
The Parador® of Bielsa is built to the traditional architecture of the area in local stone.
Inside there is much use of wood to cover the floors, walls and columns. The furniture is modern in design and finished in luxurious leather.
The restaurant maintains the high standards of the Parador® Group and serves the best of the dishes popular in the Northern part of Aragon. It has a special menu for those on a gluten free diet.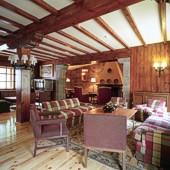 Particularly tasty are the: "Trucha del Cinca a lo fine" which is trout from the local Cinca river cooked a lo fino;
"Pierna de jabali" being roast leg of wild boar;
"Teresicas de Aragon" which is a local dessert made with puff pastry;
Whilst staying here you should enjoy this National Park which was established in 1918 and later extended. The highest point is Monte Perdido which is climbs to about 10,000 feet.
If you are lucky (or perhaps unlucky!) you well meet a brown bear in the remoter parts of the mountains. This is one of the 10 species most at threat in Europe. For much of the year it hibernates and for the other months it leads a lonely (almost) existence eating everything in reach, nuts, fruit, fish, insects etc. The animals do not attack unless provoked and have a well deserved fear of humans.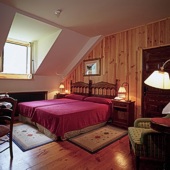 The festival of the local saint takes place on August 15th whilst there is another of these typical Aragon festivities on the 10th of August in Huesca.
The Bielsa Parador® has twenty five twin bedded rooms, five with a double bed, eight suites and one duplex.
All the rooms have a private bathroom and there is a telephone, cable television, safe and mini bar.
The hotel is heated in winter. Facilities include a bar and a restaurant, conference room, parking facilities (without security and limited places), cable TV, gift shop, currency exchange, lift and garden.
Distance from the nearest airport is approximately 220 kms, train station is 118 kms away and the nearest port is 300 kms away.