A Parador® for those who consider a twenty eight kilometre slow mountain road with many bends justifies a stay in wild exceptional mountain scenery.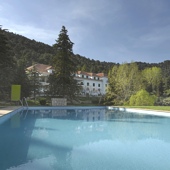 The hotel is in the middle of the Cazorla National Park and is surrounded by forests in which deer, wild boar and ibex have their homes.
The windows of this Parador® give panoramic views of this countryside and the atmosphere of tranquillity and beauty is heightened by the scent of the surrounding pine trees. The views are particularly dramatic at the approach to winter when the leaves turn to orange and gold.
The building follows in the tradition of the typical Andalusia mountain lodge. The interior is simple and unpretentious with its pleasant sitting room with comfortable furniture and large windows.
The rustic restaurant at the Parador® specialises in game which appears on the menu regularly during the hunting season. The restaurant also has a gluten free menu.

The Andalusian dishes should be tried include: "Gachamiga" , a local dish of flour, bread crumbs and bacon;
"Chuleta de venado en salsa de almendras estilo Cazorla" which are chops served in a tasty sauce;
"pisto" which are fried vegetables;
"pipirrana" which is an Andalusian mixed salad.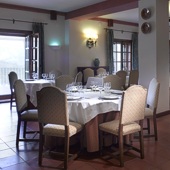 The town of Cazorla is dramatic with the well kept houses rising up protected by the castle.
The castle is worth visiting and also the churches of Carmen and Santa Maria. Your visit should also include the monasteries of San Juan de la Penitencia and Montesion.
Further afield go to the Templar castle of Iruela and the Roman villa of Quesada. Also go to Ubeda for its examples of Andalusian Renaissance architecture.
The main local festival takes place in Cazorla on September 17th. Other festivals are at Iruela on August 28th and the local Feasts of San Isidro (May 15th) and San Blas (first Sunday of February).
The National Park of Cazorla, Segura and Las Villas gives the opportunity for hunting, fishing, walking, riding horses, cross country driving or mountain biking.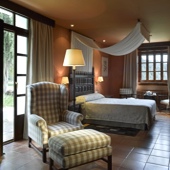 In late September from the terrace of the Parador® of Cazorla you may be able to watch the battles of stags while battling for supremacy within their territories.
The unheated swimming pool has impressive views over the Nature Reserve.

The Cazorla Parador® has twenty six twin bedded rooms, six rooms with a double bed and one suite. All the rooms have a private bathroom. The rooms also have a telephone, satellite television, safe and a minibar.
Parador® Cazorla has central heating, parking facilities (without security and limited places), piped music, currency exchange, lift, satellite television, garden, seasonal swimming pool and a children play area, a restaurant and a bar. Air conditioning is not thought necessary due to the fresh mountain air.
Distance from the nearest airport is approximately 230 kms and the nearest train station is 90 kms away.
Pets are accepted in this Parador® (conditions apply).