As you drive up the road to the Parador®, the views over the city of Jaen and the beautiful countryside of Andalusia are breathtaking. The ultimate panorama is reached at the Parador®.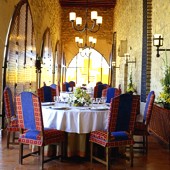 The balconies of teh bedrooms offer a 180 degrees view of the surrounding plain, the Gualdaquivir river, the Sierra Morena hills and at a distace the mountains of Sierra Nevada.
This panoramic view is one of the main reasons for the high position of the castle. it is easy to see an approaching enemy and also difficult to make an attack.
During the Roman occupation, around the time of Christ, Jaen was known as Aurigis because of the silver mines in the area. When it was later conquered by the Moors its name was changed to Geen which is the Arabic for 'crossroads of caravans', an important trading route.
Although the Arabs built the original fortress (Abrehui's), the current construction is of Christian origin, raised after the conquest of the city by Ferdinand III of Castile, called the Saint, in 1246. The castle held out against repeated attacks by the Moors over the next two centuries.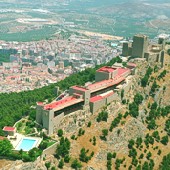 In 1968, the castle was restored and extended to form the Parador®. The buiding's majestic appearance continues inside with impressive twenty metre high crossed arches in the main sitting room with large metal chandeliers hanging from the ceiling, the Arabic style dining room and comfortable bedrooms with wonderful views.

The Parador's® restaurant offers the opportunity to taste some of the local specialities as well as international dishes. Some of the local dishes include:
"ajo blanco" which is a cold soup with strong garlic flavouring;
"Ensalada de perdiz" being partridge with salad;
"morcilla en caldera", black pudding cooked in the pot;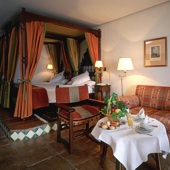 "pipirrana" being the regional mixed vegetable salad;
Outside there is a lovely seasonal swimming pool and an area where guests can have a walk on the grassed parade of the castle while looking at the surrounding fortifications.
Acommodation consists of 8 single rooms, 6 double rooms and 31 twin rooms. Bedrooms are equipped with minibar, telephone and television with canal plus.
The Parador® has air conditioning, heating, lift, restaurant and bar.
Conference facilities are also available at the Parador®.
Pets are not allowed in the luxury hotels in the Spanish Paradores® group.