Parador® Santo Domingo de la Calzada occupies a 12th century former hospital located next to the cathedral. Built by Saint Dominic, it was used to give shelter to the pilgrims on the Road to Santiago.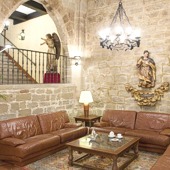 The Communal rooms have have been decorated in a regal and elegant style and have Gothic arches and wooden coffered ceilings. Heavy materials and bright colours are used to decorate the comfortable bedrooms some having four poster beds.The Parador® restaurant serves both international and local dishes and there is a special menu for those on a gluten free diet. .

Some of the regional dishes to be sampled include:
"Piquillo" which are delicious stuffed peppers;
"Bacalao a la riojana" reconstituted dried and salted cod as cooked in the Rioja region;
"Menestra de verduras de le Ribera" a vegetable stew from La Ribera;
Being in La Rioja wine producing region the meal should be accompanied by the famous red wine.
In Santo Domingo you must visit the Cathedral because of the architectural richness exhibited in the famous altarpiece, the wood carvings, the "Torre Exenta" tower, the walls, and the sanctuary of the saint.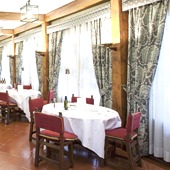 The monastery of San Millan de la Cogolla was regarded as the birth-place of the Castilian language and is declared a Heritage of Mankind. The monastery consists of Suso (or upper) and Yuso (or lower). There are other monasteries to explore as well as the villages like Tricio, Najera, and Briones.

The main festival is celebrated from 10 to 15 of May , The processions of the maidens, nuns, and the saint takes place at the Festival of Gracia held on September 19.
The festival of Mercado del Camino take place in early December and has a medieval market and gastronomy festival which are both very popular.
You may play golf on the several courses in the surrounding area, the nearest one being less than two miles from the Parador®.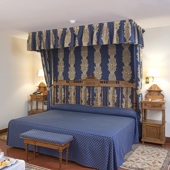 Valdezcaray skiing station is only 11 miles away. You can also go fishing, hunting or explore the Demanda mountains.
This Parador® has fifty two twin bedded rooms, seven rooms with double beds and two suites. All the rooms have a private bathroom and include a telephone, TV canal plus, safe and a mini bar.
The Santo Domingo de la Calzada Parador® has air conditioning, central heating, currency exchange, car park (without security and limited places), garage, satellite television, gift shop, restaurant and bar.
There are meeting rooms and some rooms are equipped for the disabled.
Distance from the nearest airport is approximately 60 kms, train station is 32 kms away and the nearest port is 130 kms away.
Pets are not allowed in the Parador®.