Wonderful views of Soria and the Duero river are seen from the large windows of this building on a hill which includes the ruins of a castle.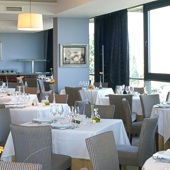 The Soria Parador® is named after the Sevillian author, Antonio Machado and photographs of him and extracts of his poems are in many of the public rooms.
The Parador® of Soria re-opened in June 2005 after a multi million euro restoration and a new extension. A medieval wall was found during this work resulting in the new building having to be re-sited.
The atmosphere of the interior is very welcoming. The wooden floors and modern wood furniture offer a special look to the common rooms which are decorated with plants, paintings and engravings.
The majority of the bedrooms have views of the Duero valley and the green olive groves of the Spanish countryside.
The Parador® restaurant has a modern appearance and specialises in local cuisine with good garlic soups, beans, "migas" (the traditional fried bread crumbs of the region) and local roast lamb. International dishes are also available and there is a special gluten free menu.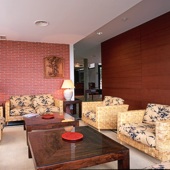 The wall found during the reconstruction has been incorporated in the interior of the new building. There is now a small museum showing the artefacts found during this work.
The Parador® Soria also has an important collection of engravings and paintings of artists of the 1360's.
The city of Soria has very good examples of Romanesque buildings including the churches of San Juan de Rabanera and Santo Domingo.
The church of San Juan de Duero and the chapel of San Saturio are also interesting old buildings.
The main festival of the town is held in June in honour of San Juan and the virgin, As well as religious processions there are bull fights with each 'cuadrilla' of the town providing a bull.
Eight kilometres to the north and marked by an obelisk is the site of the old Celtic fortified town of Numancia. This is famous for a heroic resistance over many years to the invading Romans. It finally fell in 133 B.C.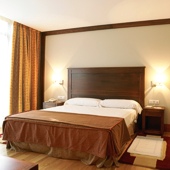 This environment is ideal for hiking, climbing, caving and canoeing. Boat trips on the Duero river can be arranged and, in winter, lessons and cross-country skiing are also available.
This Parador® has fifty six twin bedrooms including seven with a living room, three single rooms and one easy access room. All the rooms have a private bathroom en suite.
All bedrooms also have air conditioning, telephone, satellite television, TV canal plus, safe and mini bar.
There is a  bar and a restaurant, air conditioning and central heating, currency exchange, lift, parking facilities (without security and limited places), piped music, satellite television, gift shop, free wireless internet, facilities to hold small conferences with a maximum capacity of 214 persons and facilities for the disabled.
Distance from the nearest airport is approximately 200 kms and the nearest train station is 1 km away.
Pets are not allowed in the hotel.