This modern Parador® is a superbly located hotel on the Punta D'es Muts and is surrounded by pine trees overlooking the sea.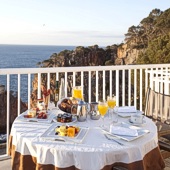 This is the perfect place from which to enjoy the beautiful beaches, cliff walks and explore the coves in an unsploilt, natural environment.
Under the tantalizing lights of the Mediterranean, the Parador® Aiguablava offers its guests a high level of comfort and service both for the individual customer and for business meetings.
There is a gymnasium, swimming pool, sauna and bedrooms with beautiful panoramic views of the sea.
The restaurants of the Parador® group hotels all serve regional dishes and have a gluten free menu. The regional specialties of this Parador® are based on the "ampurdanesa" style of cooking which has a strong coastal influence and sometimes makes use of unusual ingredients such as sea urchins.
Two dishes to be sampled are: "Caracoles a la llauna", grilled snails;
"Suquet de Peix", sea food dish in a sauce; Another tasty local specialty is the dish of chicken and lobster.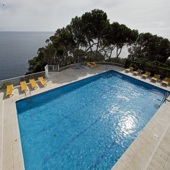 During the summer you can enjoy this wonderful cuisine by dining on the beach in a superb, natural environment.
Explore the village of Pals as it boasts a Romanesque-Gothic collection of monuments.
Visit the museum (and former house) of Gala-Dali in Pubol and the medieval fortress located in the centuries-old village of Peratallada which is located near Aiguablava.
During the summer months there are numerous concerts and festivals in the various towns in the locality, Calella, Palafrugell etc. Alternatively, you might like to use a disguise and participate in the carnival in Palamos which is held in February.
Some of the activities you may enjoy near Aiguablava Parador® are swimming, sailing, boat excursions, golf, exploring the cliffs and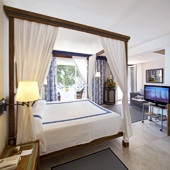 the caves of Aiguablava, mountain biking, horseback riding, parachuting, flying micro light aircraft etc.
If you like wildlife, visit the birds reserve of the Aiguamols National Park.
The Parador® of Aiguablava has sixty one twin bedded rooms, ten double bedrooms, five suites and two easy access bedrooms.
In the rooms you will find a telephone, television, TV canal plus, safe and a mini bar.
For the comfort of guests the Parador® is air conditioned, has heating, piped music, a gift shop, a restaurant, bar, conference facilities, parking (without security and limited places), garden and wireless Internet in some areas of the Parador®.
The hotel also has gymnasium, sauna, seasonal swimming pool, currency exchange and lift.
Distance from the nearest airport is approximately 150 kms, train station is 26 kms away and the nearest port is 150 kms away.
The 'Mar i Vent' restaurant has a seasonal closing period.