The Parador® of Vic-Sau is in one of the most beautiful areas of the region of Osona with the Guillerias mountains in the background and the Sau reservoir nearby.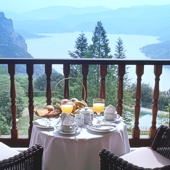 The peaceful surroundings are in contrast to the industrialization around the city of Barcelona.
The hotel has the atmosphere of a traditional Catalan farmhouse with a well looked after garden, bedrooms with colonnaded balconies and a magnificent swimming pool.
The rooms in the building are spacious and comfortable and the windows have exceptional views of the surrounding landscape.
The Parador's® restaurant serves international dishes and has a special gluten free menu however the speciality is local dishes.
Try the very best cuisine of Catalonia with dishes such as
The popular Osona sausages,
Carn d'olla, a stew or
Anglerfish au gratin with ali-oli sauce.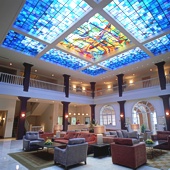 In the nearby town of Vic Sau, the places to visit include the Sant Pere Cathedral, the Roman temple, the main square with porticos and the episcopal museum.
You might like to follow the 'Route of the Romanesque' by car. This goes through villages like Santa Maria del Corco and Rupit together with the Monastery of Santa Maria de Ripoll.
Another trip by car is to the "serrania" (mountains) of Guillerias, visiting the dam of Sau and the volcanic area of la Garrotxa. These are places for walking, horse riding or going by mountain cycle.
Like all Spanish towns, the local festivals are an important part of life. The first Sunday in May has the Penitence processions whilst the main 'fiesta' is on July 5th.
A medieval market is held in early December.
At the Vic-Sau Parador®, there is a seasonal swimming pool. Locally there are water sports, golf and walking. Reception of the Parador® might even be able to arrange a balloon trip.
An interesting walk is from the Parador® to the Monastery of Casserres which is an outstanding example of Catalonian Romanesque architecture.
The Parador® Vic-Sau has twenty one twin bedded rooms, twelve rooms with double beds, four single rooms, four suites and one easy access room.
All the rooms have a private bathroom and also a telephone, satellite television, TV canal plus, a safe and a mini bar.
The hotel has air conditioning and central heating, garage and parking facilities (without security and limited places), currency exchange, lift, satellite television, free wireless internet, garden, seasonal swimming pool, a restaurant and bar. Facilities are available to hold business meetings.
Distance from the nearest airport is approximately 61 kms, train station is 12 kms away and the nearest port is 74 kms away.