This Parador® is located next to the quiet beaches of Benicarlo, in the Costa del Azahar holiday coast.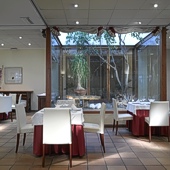 There is a large garden surrounding this Parador® hotel with a well cared for lawn, seasonal swimming pool and exotic palm trees.
The building has a classical but contemporary appearance, with the decor of the high standard expected in the Parador® group.
The panoramic view of the coast is one of the attractions of this hotel.
The restaurant specialises in seafood and rice and has a special gluten free menu. The local dish is "alcachofa de Benicarlo" which is the famous Benicarlo artichoke. Amazingly for a holiday hotel, there is a very popular diet breakfast buffet!
During the months of July and August a barbecue is held in the gardens.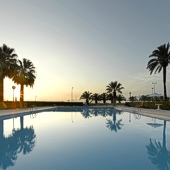 The hotel has two suites, fourteen rooms with a double bed, eighty eight with twin beds, two single rooms and two easy access bedrooms. All rooms have telephone, cable television, safe, minibar, private bathroom and the majority have balconies facing the sea.
The building is air conditioned. Other facilities include heating, currency exchange, lift, satellite television, parking facilities (without security and limited places), garden, bar, restaurant, piped music, shop and facilities for the disabled.
This fishing port has an 18th century church that is worth visiting together with an archaeological museum.
The Parador® of Benicarlo has a seasonal swimming pool, tennis court, gymnasium, sauna, children's play area and conference facilities.
There are many restaurants in the town most of which serve the coastal speciality of paella in the town.
The area specialises in growing of oranges and fresh orange juice is a delightful drink if the hour has not yet arrived for the local wine.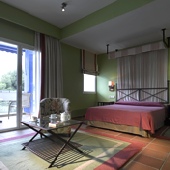 A visit to the picturesque mountain village of Morella is interesting. One house has a macabre story attached to it dating from the early 1400's. The family had no food to offer the local saint. A wife and her husband killed their son and made a paella with the meat, Saint Vicente later heard of this and put the body together and brought the son back to life. Unfortunately he was missing one finger which his mother had eaten to check the food was cooked to perfection!
The local festival is the "Falleras" (burning figures) which takes place in Benicarlo on March 19th. Each about 8 kilometers from the Benicarlo Parador®, the Feast of "Moros y Cristianos" is celebrated in Peniscola on September 8th, and the Carnivals of Vinaroz in February.
The Costa del Azahar is one of the Mediterranean coastal areas that has been least affected by tourism making it ideal for family holidays.
Distance from the nearest airport is approximately 140 kms, train station is 2 kms away and the nearest port is 140 kms away.
Parador® Benicarlo hotel has large gardens looking over the Mediterranean sea.