This 8th Century medieval castle is perfectly preserved and will take you back in time to the middle ages.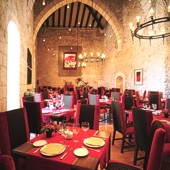 This fortress, now the Parador® of Alarcon, is located on a promontory looking down over the fertile plain of the river Jucar.
Steeped in history, this medieval castle has seen many sieges and revolts. It was founded by the Muslims in the 8th century and was then captured by King Alfonso VIII in the 12th century. It has been home to the Marquises de Villena and later, the home of the famous writer Don Juan Manuel.
From the battlements, the keep and the main tower "Torre del Homenaje" there is an interesting view of the triple defensive walls echoing back to the past. However, the main defence of the castle was its location. It was protected from assault because it is perched on the edge of a ravine with the river Jucar forming a natural moat on three sides as it flows down the ravine.
Reopened to the public in 2003 after months of work, emphasis has been placed on the austerity of the building which is in keeping with its great history. A military theme is reflected in the decor and rich Castillian wood combined with a mix of modern and classic have transformed this Parador®.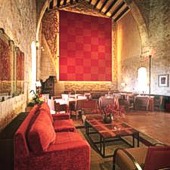 You will also see fine examples of the works of painters such as Tapies, Redondela, Sempere, Amadeo Gabino, Alvaro Delgado, Martinez Novillo and Menchu Gal decorating the walls of this Parador®, once the home of the Marquis de Villena.
The Parador® group serves regional dishes in their restaurants and have a gluten free menu. The Parador® de Alarcon is on the boundary of the La Mancha and Levante regions and the local dishes are based on the meat of the young lambs and goats of the herders and the game shot by the local hunters.

Local regional dishes are:
"Morteruelos", hot meat pate;
"Zarajos", cured ham and tripe;
"Cordero en caldereta", lamb stew;
"Gachas de mortas", pork based dish;
Another regional speciality are the sweet almond sauces (suspiros) for which the Alarcon and Alaju regions are famous.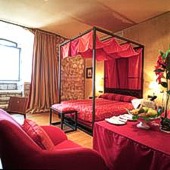 Excursions can be made to the Embalse de Alarcon, Belmonte and Ciudad Encantada.
Another interesting visit is to the Cassasimarro craftsmen who specialize in handmade guitars, lutes and bandurrias.
The Parador® Alarcon has four twin bedded rooms and ten double bedrooms. All have private bathroom, television and telephone.
The Alarcon Parador® is air conditioned, has heating, lift, restaurant (Gastrobar), bar, currency exchange, parking facilities (without security and limited places), garden and conference facilities.
Distance from the nearest airport is approximately 132 kms, train station is 86 kms away and the nearest port is 175 kms away.