The Parador® of Cuenca is in former convent of San Pablo overlooking the Hoz del Huecar gorge which has sheer walls and luxuriant vegetation.
Nearby are the famous "Casas Colgadas" (Hanging Houses) and the Museum of Spanish Abstract Art.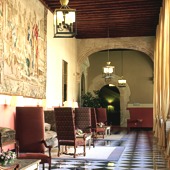 The former chapel and the cloister of the convent is now a cafeteria bringing the friendly life back to the building.
The interior decor combines the traditional elements with more contemporary features such as wicker and leather upholstery.
The welcoming bedrooms are comfortable and some have splendid views of the gorge and the "Casas Colgadas".
There are thirty nine twin bedded rooms, twenty two rooms with double beds and two suites all with private bathrooms.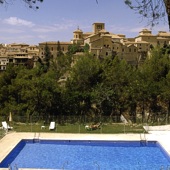 In the rooms there is a telephone, satellite television, safe and a mini bar.
Parador® Cuenca is air conditioned and has a gymnasium, sauna, seasonal swimming pool and a tennis court.

There is a restaurant and bar, currency exchange, lift, central heating, garage and car park (without security and limited places), gift shop, free wireless internet and conference facilities.
Spicy seasonal dishes make up the basis for the traditional cooking of Cuenca in which the restaurant specialises. Recommended are : "Morteruelo" which is game shot in season;
"Pisto con lomo de orza", a dish of loin with fried vegetables;
"Bienmesabe", a sponge cake which is popular in the area;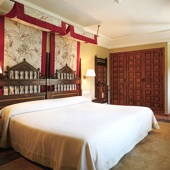 About 23 miles from the Cuenca Parador®, nature has created an incredible rocky place, called "la Ciudad Encantada" (the Enchanted City).
The Easter celebrations at Cuenca are internationally renowned and a visit at this time should be made if possible.
Another event is the Week of Classical Religious Music during which several concerts are organized.
The local festival is held in August in honour of the patron saint, San Julian.
The Natural Park of the Cuervo river, the Palancares, and the Devil's Window are all beautiful places to visit.
These have many sporting activities including riding, caving, climbing; hang gliding and canoeing.
Distance from the nearest airport is approximately 167 kms, train station is 2 kms away and the nearest port is 220 kms away.