The four star Parador® of Albacete is situated on the outskirts of the town and has many open-air activities nearby.
The garden and seasonal swimming pool are perfect for an afternoon stroll or to have a refreshing dip on warm summer evenings.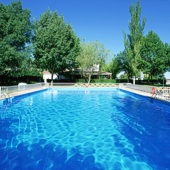 One of the features of this country house is an attractive indoor corridor which characterizes elegant simplicity.
Great emphasis has been placed on the large windows providing natural light and immaculate wood which together result in an attractive and comfortable ambiance.
The restaurant offers typical dishes of the La Mancha region and also has a gluten free menu. Recommended for tasting are: "Perdia en escabeche" Partridge;
"Gazpacho manchego" Cold soup;
"Miguelitos de la Roda" Puff-pastry desert;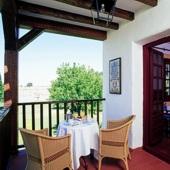 The gazpacho soup on a hot summers day could be followed by a Mancha salad, composed of codfish and cheese.
The Fiesta at Albacete is held in the month of September and is well worth a visit.
In addition, the celebration of the feast of San Juan takes place in June and the Theatre, Music and Dance Festival is usually held in August.
Albacete has a cathedral and archaeological Museum and the attractive village of Chinchilla del Monte is approximately 4 kms away.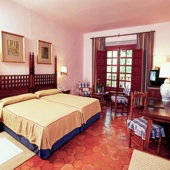 In the Alcacaz mountains you may find excursions available during certain months. Other outdoor activities include hunting, horse riding, bicycles, kayaking and a 9 hole golf course.
The Albacete Parador® has sixty two twin bedded rooms, two single and four double bedrooms.
There is a telephone, television, satellite television, TV canal plus and mini bar in every room. There is also heating, air conditioning, elevator, currency exchange, a restaurant and bar, 2 conference or banqueting rooms, a gift shop and free wireless internet.
The Parador® Albacete has a swimming pool, tennis court, 9 holes pitch and put course and car park (without security and limited places).
Distance from the nearest airport is approximately 10 kms, train station is 4 kms away.
Pets are accepted in this Parador® (conditions apply).