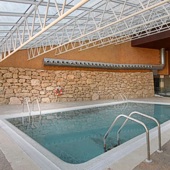 The Parador® of Lorca (Murcia) is located within the historical precinct of the Castle of Lorca, a meeting point of three cultures (Islamic, Jewish and Christian). It was declared Monument of Cultural Interest in 1931.
The thirteenth century castle of Lorca is located in a strategic position overlooking the city. It has a long, narrow shape with a polygonal floor plan and is divided into three areas, one of which contains the rectangular Alfonsi Tower, with three sections covered by Gothic vaulted ceilings. This tower was rebuilt in the fifteenth century.
Also outstanding is the Espolon Tower with Mudejar influences.
The castle has been restored as a themed area dedicated to visitors and to the interpretation of heritage, under the name of the Fortress of the Sun. This initiative has earned Lorca a place on the short list of the European Commission's EDEN programme (European Destinations of Excellence), in recognition of its sustainable tourism proposal.
The Lorca Parador® is a new-built construction, set on a vast archaeological site which was discovered during its preparatory excavations.
The archaeological site is partially embedded in the building, while another part lies outside the building walls. Among the different areas of the archaeological site, we can highlight the fifteenth century synagogue (this is the most important of the archaeological sites and is embedded in the Parador® protecting it against erosion and allowing public visiting).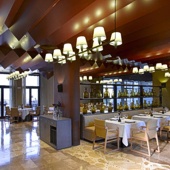 Also of interest is the Jewish house, an Islamic cistern, an Almohad wall of the thirteenth century and the remains of the Islamic-Caliphate buildings from the tenth to eleventh century. All of these sites are very close to the Parador®.
Part of the walls of the castle is directly linked to the Parador® such as the remodelled 'Alfonsina Tower', located in some distance from the hotel.
Gastronomy in Lorca is known for its abundant vegetables, cereals and meats, specially coming from game, sheep and pork.
In the typical cuisine of Lorca we can find: migas con tropezones"; "olla fresca"; rice and beans with pork products, Paella with turkey, Turkey casserole with meatballs; "Olla Gitana".
The Parador's® restaurant serves the local cuisine and also has a gluten free menu.
The Parador® of Lorca is the reference for tourism and gastronomy in the region of Murcia, both as historical centre and as meeting point for celebrations and events, based on its very large historical value.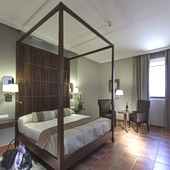 Accommodation at Parador® Lorca hotel consists of sixty five twin bedded rooms, nine suites and two easy access rooms.
The hotel Parador® has bar, free wireless internet, swimming pool, gymnasium and facilities are available to hold business meetings.
Local festivities in the area include the San Anton popular pilgrimage in January, midsummer festivity in June and the pilgrimage honouring the Patron of La Hoya, Virgen de la Salud, on 8th September.
Distance from the nearest airport is approximately 115 kms and the nearest train station is 3 kms away.
Pets are not allowed in the hotel.