This Parador® fronts onto the beach of Mojacar, with one of the best micro climates in Spain.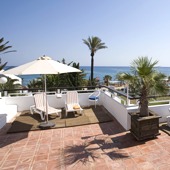 In these modern troubled times, it is worthy of note that, during the many centuries of occupation by the Moors, All the Muslims, Jews and Christians lived together in harmony bringing great wealth to the area.
The bright bedrooms have terraces overlooking the sea receiving the benefit of the gentle breezes and within earshot of the lapping of the waves.
The upstairs dining room has extensive sea views.

The cuisine of the Almeria region is the specialty of the restaurant. Fish and rice cooked in many different ways features strongly on the menu. Beside traditional and international dishes there is a gluten free menu.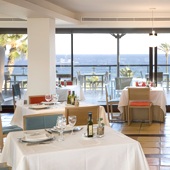 Recommended are:
"Arroz a la Garruchera" being one of the local rice dishes;
"Gambones de Garrucha" a dish to delight the lovers of prawns;
"Amarillo de pescado en cuajadera" where the main ingredient is hake;
"Tarta de manzana" which is apple tart;

Mojacar can be reached on foot by the energetic. It is a town of white houses perched on rocky outcrops. The streets are small and narrow reminding of days gone by.

Places to visit include the Watch Towers of Perulico, the Macenas Castle, the Santa Maria fortified church, the Main Gate of the city, and the "Casa Torero".
Like all Spain, the various festivals are important in social and religious life. The main are: Festival of "Moros y Cristianos" (Moors and Christians), held in mid June; Festival of San Agustin which takes place on August 28; Festival of Virgen del Rosario celebrated on 7 October.


Most people come to enjoy the beach and the tranquil Mediterranean sea which is a perfect area for swimming, diving, and fishing.
Nearby, you can visit the Almanzora caves to look at the formations formed by centuries of dripping water.
Some like to travel to the Cape of Gata and the Alpujarra region of Almeria whilst others go to the naturist beaches of Vera.
The Parador® of Mojacar has seventy eight twin bedded rooms, eleven rooms with a double bed and nine single rooms.

All the rooms have a private bathroom and also have a telephone, satellite television, a safe and mini bar. The Parador® Mojacar has facilities for the disabled.

The hotel has air conditioning, central heating, currency exchange, parking facilities (without security and limited places), satellite television, restaurant and bar. Other facilities include seasonal swimming pool and garden with children's playground.
The Mojacar Parador® has a magnificent conference centre fully equipped with the modern aids.
Distance from the nearest airport is approximately 80 kms, train station is 80 kms away and the nearest port is 80 kms away.