The name "Plasencia" was given to this town by its founder king Alfonso VIII, meaning "pleasant for God and for men".
The Parador® of Plasencia is the former Convent of Santo Domingo, founded by the Zuniga family in the middle of the 15th century and was built in gothic style both inside and out.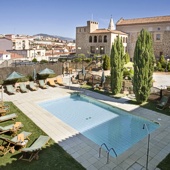 Situated in a marvellous location in the heart of the historical quarter of Plasencia, this is an ideal starting point from which to visit the city's architectural delights as well as the marvellous surrounding country side.
As with all restaurants of the Paradors®, serving the local dishes of the region is important. However international dishes are also served and there is a special gluten free menu..

In the Parador® of Plasencia the theme is the gastronomy from Estremadura. Being an inland region the dishes are from the agriculture of the region and the meats of the mountains.
The menu may include the following specialities of the chef: "Sopa de Patatas" which is a potato based soup;
"Pucherete de perdiz" being a stew of partridge meat;
"Lomitos de cordero", honey roast lamb with potatoes and vegetables;
"Compota de higos de La Vera" which are local figs stewed in syrup;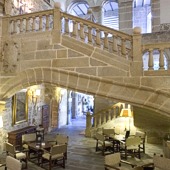 In Plasencia visit the cathedral, palaces, walls, gates and bridges. The historic districts of Caceres and Trujillo are also impressive and not to be missed.

In Plasencia there is a local festival in early June with the festival of "Martes Mayor" taking place on the first Tuesday of August.
The Festival and Procession of Virgen del Puerto are held on the first Sunday after Easter.
A beautiful sight in February is in the Jerte valley when the cherry trees are in blossom.
There are wonderful natural landscapes in the Jerte valley for walkers as well as the Natural Park of Monfrague, La Vera, and Las Hurdes.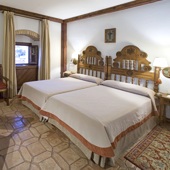 The Parador® Plasencia has nine twin bedded rooms, eight rooms with a double bed, forty eight suites and one room with easy access for the disabled.
All the rooms have a private bathroom. Also there is a telephone, satellite television, safe and a mini bar.

The building has air conditioning and central heating. There is a restaurant, bar, currency exchange, lift, garage, satellite television and facilities for the disabled are incorporated in the conversion.
There is a seasonal swimming pool and facilities for business meetings at Plasencia Parador®.
Distance from the nearest airport is approximately 255 kms and the nearest train station is 1 km away.