For several months this castle was the home of Emperor Charles V.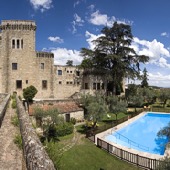 The four star Parador® of Jarandilla de la Vera hotel is in the middle of the orchard of La Vera and surrounded by ravines through which streams flow with natural pools.
This setting of beauty enhances the attractive building.The outstanding exterior of the Parador® features the castle and turrets, the parade ground and the excellent swimming pool surrounded by olive and orange trees.
Inside there are grand halls with fire-places which provide an intimate and peaceful atmosphere.
In the restaurant, local dishes are the specialty of the chef.

Dishes include:
"Sopa de Tomate" which is a delicious homemade soup;
"Cuchifrito", a stew using either lamb or kid;
"Lomitos de cordero a la miel de la dehesa" being lamb ribs cooked in honey;
"La Vera fig compote or cheese cake" are excellent items from the sweet trolley;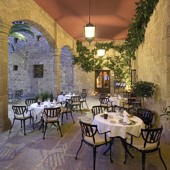 As well as the traditional food of a Parador®, there is a gluten free menu.

Nearby visit the Roman bridges of Jarandilla de la Vera, Villanueva and Valverde de la Vera.
Also find time to go to the Monastery of Yuste which was the last residence of the emperor.
This area is full of villages worth visiting as well as the gorges through which the crystal water flows.
Discover the city of Plasencia with its cathedral, palaces, walls, gates and bridges.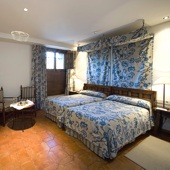 Enjoy the Carnival at Villanueva de la Vera or the Easter celebrations in Valverde de la Vera.

In the Vera and Jerte valleys or in the Natural Park of Monfrague, there are facilities for the following activities: hiking,mountain biking, horse riding, canoeing and swimming in the natural pools.
Jarandilla de la Vera Parador® has thirty eight twin bedded rooms, nine rooms with a double bed and three single rooms. There are two rooms with easy access for disabled guests.
All the rooms have a private bathroom and also a telephone, satellite television, safe, hair dryer, air conditioning and mini bar.
The building has air conditioning and central heating, currency exchange, satellite television, telephone, piped music, parking facilities (without security and limited places), garden, free internet access in communal areas, restaurant, bar and conference facilities.
In the grounds there is a children's playground and a seasonal swimming pool.
Distance from the nearest airport is approximately 240 kms and the nearest train station is 33 kms away.