This beautiful Parador® is in the old town of Trujillo which is the birthplace of such conquistadors as Pizarro. Situated in the former Santa Clara monastery, the Parador® has an atmosphere of peace and quiet.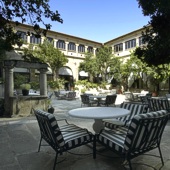 Inside there are two beautiful cloisters; one Renaissance with arches and columns while the other is open and gives light which embellishes the surroundings.
The Trujillo Parador® is ideal for leisure or business with monastic style common rooms and spacious, quiet and pleasant living rooms.
The bedrooms are dominated by wood and have modern amenities. The decor is based on a noble's bedroom in previous years.
The dishes served in the dining room are a mixture of international and local dishes. There is also a special menu for those on a gluten free diet.
Some of the local regional dishes include,
Tomato and cumin soup.
Cochinillo de montanera (roast sucking pig)
Iberian sausages and ham.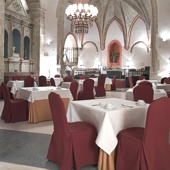 In Trujillo visit the castle, the walls, the churches of San Martin and Santa Maria la Mayor and the Museum (and former house) of Pizarro.
Also the palaces of Altamirano, Bejarano, Escobar, Vargas, Carvajal and Luis Chaves should not be missed,
During Holy Week you may attend the festival of "The Descent of the Angel". Later in the year are the festival of Santa Ana from 24th to 30th of June which includes the traditional "La Revoltosa" ball which can be seen by visitors.
Visit by car the near-by city of Caceres and also the Natural Park of Monfrague. The Jerte Valley has cherry trees blossoming in spring time. Also visit the Ibores region and the valley of La Vera.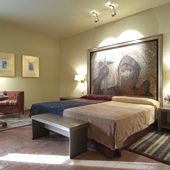 The Parador® Trujillo has forty two twin bedded rooms, seven suites and one easy access room.
All the rooms have a private bathroom and also a telephone, satellite television, safe, mini bar and air conditioning.
The Parador® of Trujillo has air conditioning in the living rooms, bedrooms and dining rooms, central heating, currency exchange, satellite television, garage and parking facilities (without security and limited places), free wireless internet, garden, seasonal swimming pool, restaurant (Gastrobar) and bar. Conference facilities are available if required.
Distance from the nearest airport is approximately 150 kms and the nearest train station is 48 kms away.
The traditional restaurant is now closed. Meals are served at the 'Gastrobar' with an informal but complete offer. Breakfast and event services will still be served at the Parador®.