This four star Parador® is on the hill top of Cumbre de Cerro Pui-Pinos. It became the seat of the Order of Calatrava in 1179.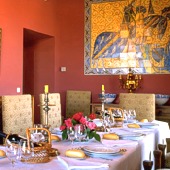 In earlier times the castle formed the natural defence of the town. The original keep, and bell tower - sacristy have been preserved and an area was converted to an Aragonese Palace in the 18th century.
A plaque in the Parador® Alcaniz shows that in 1410, Martin the Humane, who was king of Aragon, Catalonia, Valencia and Mallorca, died without an heir. The noblemen met to discuss the rights of the various Pretenders to the Throne.
Members of Parliament were also involved and took two years to come to a decision after consulting various Ambassadors, in particular those from Castile, France, Sicily and the Vatican. In 1412 agreement was reached and 'La Concordia' was signed with Fernando I becoming king of Aragon. Hence the name of this Parador®.
This proved to be a wise choice, his descendents became some of the most famous names in Iberian history.
In 1728 Prince Philip converted part of the castle into his palace and this area became the Parador® in 1968.
The position of the castle dominates the landscape of the Maestrazgo region and has centuries old houses clustered at the foot of the hill.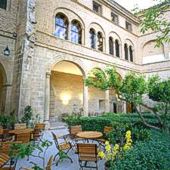 The Parador® of Alcaniz features a baroque facade and has gothic walls. The interior is decorated in soft red and green shades and liberal use is made of rich Spanish wood in the furniture and ceilings.
In the original rooms the ceilings are 12 foot high and the walls three feet thick. Some rooms have views over the old roofs to the terraced fields below and the river.
The dining room has a high beamed ceiling and a large fireplace that was needed in earlier times to keep the room warm in winter.
The restaurant of the Parador® group offers a mix of international and regional dishes and have a special gluten free menu. The regional specialties of this Parador® are : "Huevos a la Alcanizana", egg dish;
"Ternasco Asado", roast young lamb;
"Tortas de Alma y Almendrados", Almond tart;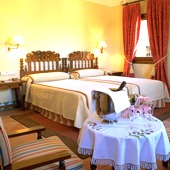 The local wines of Somontano and Carinena are a perfect accompaniment for these dishes.
In the town of Alcaniz, the places to visit are the Excolegiata, the Gothic paintings in the Torre del Homenaje, the Medieval "Pasadizos" (corridors), the City Hall, and the Gothic "Lonja" (marketplace).
The International Aragon Festival is held in July and August.
The Alcaniz Parador® has twenty seven twin bedded rooms, seven double bed rooms, two bedrooms with sitting rooms and one easy access bedroom.
Each room has a telephone, television, TV canal plus, safe and mini bar. The Parador® is heated and has air conditioning, elevator, currency exchange, parking facilities (without security and limited places), garden, conference facilities, wireless internet, restaurant and bar.
Distance from the nearest airport is approximately 105 kms and train station is 105 kms away.