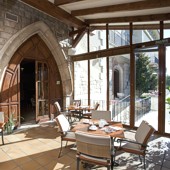 The interior of this palace makes use of polished marble for the flooring with painted tiling, arches, warm dark wood and many potted plants.

The bedrooms are cheerful and light with the decoration in pastel shades.

The spacious garden contains many specimen trees, the large swimming pool and a tennis court.

As is customary in the Parador® Group, the restaurant combines international dishes with the specialties of the region. The Parador® of Teruel also has a special menu containing gluten free dishes.

Some dishes to try are:
"Sopa en Perolico", a delicious poultry soup;
"Caldereta de cordero" which is lamb stewed in an earthenware pot;
"Pollo al chilidron" being chicken prepared with pimentos, onions and tomatoes;
For sweets try:
"Suspiros de Amante" which is a cheese and egg dessert or
"Suspiros de moja" which translates ad "nun's sighs" and is made with meringue and almonds;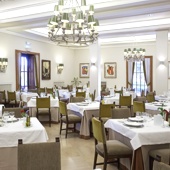 For a wine to accompany the meal, the full bloodied red wine, Carinena tinto, has been suggested.
The town is known as the city of the famous lovers. Apparently in 1217, Diego Marcilla was hoping to marry his childhood sweetheart, Isabel. Unfortunately, over the years, Diego's family had lost their money while Isabel's family had grown very wealthy. Saber's father would only agree to the marriage if Diego went away for five years and came back a successful man.
After that time, Diego did not come back and Isabel's father arranged for her to be married to someone else. The day after this wedding. Diego returned for his bride. His grief was so great that he died at her feet. At the funeral, Isabel knelt in prayer before his coffin and also died.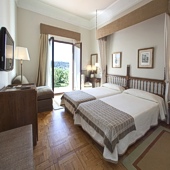 Their tombs are side by side in the church of San Pedro and their skeletons can be seen through grills in the mausoleum.
In Teruel, the festival of la Vaquilla is held in July and, by tradition, a bull is always present. The festival of the Ham is held in September
The Parador® Teruel has forty two twin bedded rooms, eleven rooms with a double bed, six suites and one easy access room.
All the rooms have a private bathroom, satellite television, TV canal plus, safe, mini bar and air conditioned.
The dining room has air conditioning and the rest of the hotel has central heating. Other facilities include currency exchange, lift, free internet access in communal areas, garage and parking (without security and limited places), piped music, restaurant, satellite television and telephone. The Teruel Parador® also has a bar, garden, seasonal swimming pool and tennis court. Facilities for business meetings and for disabled guests are also available.
Distance from the nearest airport is approximately 165 kms, train station is 2 kms away and the nearest port is 150 kms away.
Pets are not allowed in the hotel.