This Parador® is the site of the former "Piedras Albas" palace in Avila and backs onto the city walls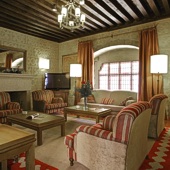 In the gardens many of the archaeological features of the former building remain preserved giving a magnificent atmosphere.
The interior has a warm and intimate feel with bright colours and interesting decorative features.
Ample use has been made of granite floors in the larger rooms and the whole building creates a harmonious whole.
The bedrooms are spacious and some have four-poster beds.
The Parador® of Avila has a magnificent glazed patio which is ideal for sitting in during the evenings or enjoying the winter sun.
The dining room of the Parador® has beautiful views of the garden and the walls.
The regional dishes to sample here include: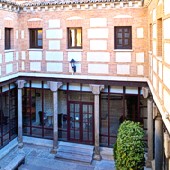 "Pucheretes teresianos" which is a stew made with pork and vegetables.
"Chuleton de ternera" - roast suckling pig.
"Judias de El Barco" which is a traditional dish using beans.
"Yemas de la Santa", a delicious dessert made with egg yolks.
The walls encircling the town built the 12th century and are almost two miles long.
Buildings worth a visit include the cathedral and the fortress together with San Vicente church and the Monasteries of Santa Teresa and Santo Tomas.
An interesting site is the "four posts" which is a cross of stone with four pillars around it. From here there is a splendid view of the city and its walls.
Held during the first weekend of June is the "Ronda de las Leyendas". This re-enacts various events that have happened in the city in the past and is performed at the actual sites they happened. The sites include the gate of the Walls, the San Vicente church and the Santa Teresa convent.
During the first weekend of September a Medieval Market is held with the active participation of most inhabitants. Well worth visiting!.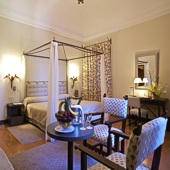 Places of interest to visit from the Parador® Avila include Gredos (where the first Parador® was opened in 1928) and the beauty spots of the Plataforma, Poza Esmeralda and Alamnzor. In addition there are the Avila mountain range and the reservoir of Charco del Cura.
The Avila Parador® has forty six twin bedded rooms, five double bedrooms, six single bedrooms and four suites.
In the rooms there is a television, TV canal plus, telephone, mini bar and safe.
Also for the comfort of your stay there is heating, air conditioning, restaurant and bar, a conference room, currency exchange, lift, satellite television, free wireless internet, garden, garage and parking facilities (without security and limited places).
Distance from the nearest airport is approximately 125 kms and train station is 3 kms away.