This Parador® is about three kilometers from the centre of Segovia which has been declared a World Heritage Site by UNESCO.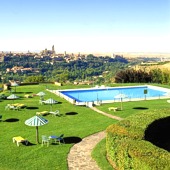 It is situated on the El Terminillo estate, a site which was chosen for the panoramic view of the city. The skyline is impressive with the city being dominated by the cathedral and the alcazar (castle).
During your stay at the Parador® Segovia a visit to the city is a must both for the beautiful old buildings and also of the artistry of the interiors.
The original walls are largely intact and three of the old gates to the city have been retained.
One of the features of the town is the well preserved Roman aqueduct which brought water fifteen kilometres to the inhabitants,
The Segovia Parador® itself is modern and welcoming.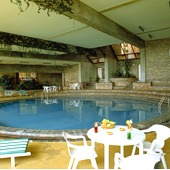 The very spacious lobby displays modern paintings and decorations.
The bedrooms are spacious and comfortable with splendid views of the city.
The Hotel has both the outside pool with views over the city for summer use and also a heated indoor pool. Other facilities include tennis court, gymnasium and gift shop.
In accordance with the tradition of the Paradors®, the menu features a number of local dishes. It also contains some international dishes and there is a special menu for those on a gluten free diet, The local dishes featured include;
"Judiones de La Granja" in which beans feature strongly;
"Sopa Castellana" which is a nourishing local soup;
"Asadas de Cordero o cochinillo" which is lamb or sucking pig roasted in a wood fired oven;
The Easter festivities in Segovia are an attractive spectacle. As are the religious festivals of San Juan and San Pedro held on 24-29 of June.
The Parador® of Segovia has seventy six twin bedded rooms, twenty seven double rooms, thirteen single rooms and seven suites.
All rooms have a telephone, TV canal plus, satellite television, safe and a mini bar.
There is air conditioning and central heating throughout the hotel.

There is also a gift shop, gymnasium and sauna, currency exchange, wireless internet in communal areas, lift, garage and parking facilities (without security and limited places), satellite television, garden, outdoor swimming pool, heated swimming pool, tennis court, restaurant, bar and facilities for the disabled.
A splendid conference centre contains several meeting rooms and has the facilities for a successful business visit.
Distance from the nearest airport is approximately 110 kms and the nearest train station is 3 kms away.
Animals are not allowed in the hotel.