The Salamanca Parador® is on a hill on the left bank of the river Tormes opposite the old centre of the city.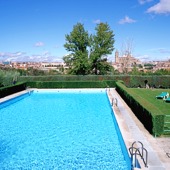 Its large windows make it an exceptional lookout point over the city, a living museum dominated by the cathedral towers. .
Elegance, comfort and spaciousness are three of the describe the common rooms, meeting rooms and the bedrooms. Marble is used extensively in the construction of the Parador®.
Panoramic views are available from all of the living rooms, the swimming pool and from a majority of the bedrooms.
The Parador® restaurant specialises in the local food and methods of cooking. There are some international dishes on the menu and a special menu for those on a gluten free diet.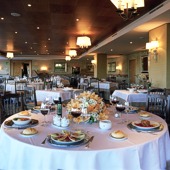 The hotel has very attractive dishes available for you to sample at the Parador® restaurant:
"hornazo", bread filled with meat;
"farinato", Iberian sausages;
hinojosa cheese;
"toston", roast sucking pig;
"rosquillas de Ledesma" doughnuts;
"almendrados", almond macaroons;

Salamanca is one of the most beautiful cities in Spain, with many places for you to visit such as the 88 arches of the "Plaza Mayor" (main square),

look at the facade of the University, the new cathedral where one of the oldest colleges is located and the picturesque "Casa de las Conchas" (house of shells).
There are three main festivals in Salamanca: the "Lunes de Aguas" (the first Monday after Easter); San Juan de Sahagun (June 12); and Virgen de la Vega (September 8).
Take a walk through the mountains of Bejar and to the Rock of Francia.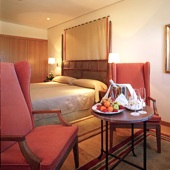 Other activities to partake in are golf, horse riding, exhibitions of bullfighting, bungee-jumping, hunting and fishing.
At the Parador® you can swim or enjoy a game of tennis. The Parador® Salamanca also has sauna, Turkish bath and gymnasium.
The Parador® of Salamanca has sixty six twin bedded rooms, thirty seven double bedrooms, two junior suites, three easy access rooms and five rooms with lounge.
In the rooms there is a telephone, internet access, television, TV canal plus, safe and mini bar.
In the hotel there is wireless internet, heating, air conditioning, a gift shop, restaurant, bar, conference facilities and car park (limited/no security).
Distance from the nearest airport is approximately 14 kms and the nearest train station is 2 kms away.