King Alfonso XIII, just after the turn of the 20th. century, established a royal hunt in the area and wanted a hunting lodge and inn.
Nearby is the Gredos circle of mountains.These fertile awe-inspiring mountains and lowlands are a mysterious blend of history, geography, and capricious weather. Sometimes pleasant and sometimes inclement, it is frequently harsh.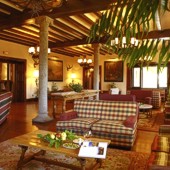 Here you get the Parador® experience and atmosphere. Its location on El Alto del Risquillo, gives views of the Tormes valley, the Gredos massif and the Piedrahita and Bejar mountain ranges.
The sturdy stone walls conceal an interior in which the comfortable bedrooms, some with terraces, are found. Wood prevails in the main rooms while granite columns and the furniture offer a traditional style of Castile.
The restaurant at Parador® Gredos makes full use of the fresh vegetables and meats of the region. There is also a special menu for those on a gluten free diet,

The famous bean dish of the region is called "Judias del Barco" beans. The quality of the veal chops is outstanding and the area is well known for its roast meats including suckling pig. The fresh mountain trout should also be tried.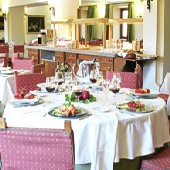 In 1978, the final draft of the then new Spanish Constitution was finalsed here, in the not so aptly named 'Silence Room'. A signed copy of this document is displayed for visitors to see.
Walking, mountain biking, riding, fishing, climbing are some of the activities you may do at many natural locations nearby such as Plataforma, Laguna Grande, Cinco Lagunas, Puerto del Pico, Cuevas del Aguila, and the valleys of Tietar and Jerte.
It is an area with many ancient sites and traces of prehistoric civilisations.
The Gredos Parador® has fifty six twin bedded rooms, fourteen rooms with a double bed and four suites.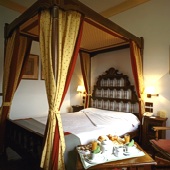 All rooms have a private bathroom and also a telephone, satellite television, safe and a mini bar.
There is air conditioning and central heating, a restaurant and bar, currency exchange, cable television, parking facilities (without security and limited places), lift and a gift shop. Facilities are available for meetings and for the disabled.
The Parador® of Gredos has a tennis court and in the garden there is a children's play area but no swimming pool.
Distance from the nearest airport is approximately 170 kms and the nearest train station is 60 kms away.
Pets are accepted in this Parador® (conditions apply).