The Benavente Parador hotel has been built on the site of the castle constructed by King Fernando II of Leon. The castle was destroyed in 1808 during the Napoleonic Wars.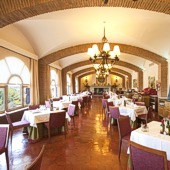 Incorporated in the Parador is the old tower of the castle known as the "Torre del Caracol". This tower contains a beautiful room of the Parador with a much admired Mudejar coffered ceiling.
Beautiful gardens surround the parador where it is possible to sit and enjoy a glass of local wine.
The interior decoration is of classical style with the wall ornaments such as wrought iron lamps recalling the turbulent past of the castle.
The Castilian bricks are featured in the walls with wood floors covered in rugs. The coffered ceilings are a special feature of the Parador Benavente.
The bedrooms are particularly pleasant. There are thirty twin bedrooms, three double bedrooms, two suites and three single bedded rooms.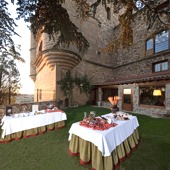 The Parador restaurant, as usual, specialises in the regional cooking. Worth trying are: "Bacalao a la tranca", a dish of reconstituted dried salted cod with eggs and peppers.
"Dos y pingada" fried eggs and bacon together with fried bread.
"Lechazo asado" which is roast lamb.
"Tocinillo de ceilo" which is a desert made with egg yolks and syrup.
The restaurant also has a special gluten free menu.
Benavente has over the centuries been a favourite resting place for travellers being the crossing point of the road from Madrid to Santiago de Compostela and the road from France to Pontevedra, Tui and Vigo.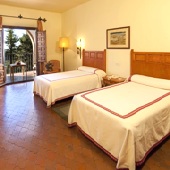 Buildings in the town worth visiting include the Santa Maria de Azogue and San Juan del Mercado churches, and also the Piedad Hospital.
The main local festival is the "toro enmaromado" (tied-up bull) which is held the day before the Corpus Christi religious holiday in June.
All the bedrooms have private bathroom, telephone, cable television, mini bar, safe, hair dryer and air conditioning.
The Parador of Benavente has a conference room, lift, air conditioning in the dining room, bar, restaurant, shop, wireless internet, seasonal swimming pool, currency exchange and garden.
Distance from the nearest airport is approximately 110 kms, train station is 70 kms away and the nearest port is 195 kms away.
Pets are accepted in this Parador® (conditions apply).