The Parador® Villafranca del Bierzo, the capital of this very beautiful region, has reopened following an extensive renovation.
Villafranca del Bierzo used to be an overnight stop for pilgrims walking to Santiago de Compostela in Galicia.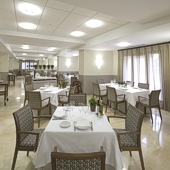 From the Parador® there are scenic views of the Piedrahita del Cebreiro Pass and of the Ancares mountain range to the north of the town.
The Parador's® garden is filled with flowers and bushes, and the wild grapevine spreads onto the facade of the building.
The Villafranca del Bierzo Parador® is clad in stone and slate in the style of the region and neighbouring Galicia. While the interior gives the elegance, status and comfort of a custom designed contemporary building. It has a large restaurant, cafe and lounge. The restaurant has a special menu for those on a gluten free diet.
The main menu concentrates on the cooking of the local area. Try some of the regional dishes such as:
Trout with lard and peppers,
Botillo - a local sausage.
Empanada - a stuffed pie
Bierzo - a veal stew.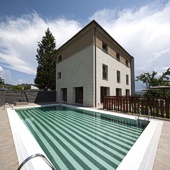 The old area of Villafranca del Bierzo has been declared a 'Historic-Artistic Monument'. Other old sites nearby include the pre-Romanic church and the Celtic huts of O'Cebreiro and particularly the old Roman gold mines of Las Medulas which have been declared a 'Heritage of Mankind'.
On January 28th, there is the San Tirso procession with pipes and bands. At Easter, local celebrations include concerts of sacred music while the festival of Santisimo Cristo de la Esperanza is held on September 14th.
In the 'sierra' (mountains) of Ancares, there are walks and tracks for mountain bikes, Other activities include flights in a micro light or to go fishing, hunting, swimming, or canoeing on the Burbia river.
This Parador® has sixteen double bedded rooms, twenty eight twin rooms, three junior suites and two suites. There are also two rooms with facilities for disabled guests.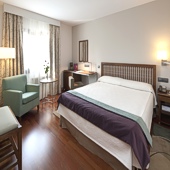 All the bedrooms have a private bathroom, telephone, television with canal plus, safe and a mini bar.
The hotel has air conditioning, heating, currency exchange and a bar. In the garden there is a children's play area.
The Parador® of Villafranca del Bierzo has a heated and a seasonal swimming pool and a sauna.
There is a car park but it does not have security and there is a limited number of places.
New multi-purpose function rooms were created during the recent refurbishment which can be combined with use with the guest patio. These are suitable for conferences and all kinds of social events and have a total area of approximately 280 square meters which can be divided into smaller rooms.
Pets are accepted in this Parador® (conditions apply).