It later became the headquarters of the Order of Saint James whose soldiers provided protection for the pilgrims.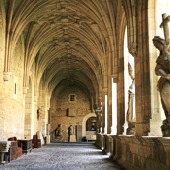 The original building was demolished in the sixteenth century and the construction of the present building, on the original site, commenced in 1515.

This is one of the most beautiful Renaissance building in Spain. The carvings depicting religious and historical events on the 100 metre long facade are worthy of note.

Magnificent cloisters were added and improved between the sixteenth and eighteenth centuries which look over the gardens.

There are many public rooms all filled with paintings, carvings and tapestries.

The restaurant specialises in the local dishes and there is a gluten free menu. You will be invited to try: "Cocido maragato" which is a stew of chickpeas, meat, bacon, etc.
"Ancas de rana" which are frog legs.
"Cecina curada" which is smoked meat which might be the game of the mountains.

The Romans rebuilt the city in 70 AD but this city was destroyed by the Moors.
It was again rebuilt in the ninth century and was the capital city of the Kingdom of Leon.
Its proud boast is the Leon had '24 kings before Castilla had any laws'. (Madrid is in Castilla which later took over the kingdom!)
Places to visit in the town include the cathedral which was built on the site of the second century Roman baths.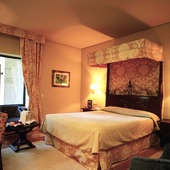 Also the Royal Church of San Isidoro, the archaeological Museum, and the "Casa de Botines" by Gaudi.
The Parador® of Leon has one hundred and ninety five twin bedded rooms, fifteen rooms with a double bed and sixteen suites.
All the rooms have a private bathroom. Four rooms are specially equipped for the disabled.
In the rooms, there is a telephone, satellite television, safe and a mini bar.
The Leon Parador® has air conditioning, currency exchange, lift, central heating, parking facilities (without security and limited places), free wireless internet and garden. There is a gift shop, restaurant and bar. Facilities are available to hold business meetings.
Distance from the nearest airport is approximately 6 kms and the nearest train station is 1 km away.
Pets are not allowed in the hotel.