Open the window of your room and breathe the salt sea air, feel the sun shining on your face as you look over a garden of palms and in two minutes you can be walking on one of the beaches of the Costa Blanca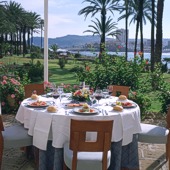 The Javea Parador® is located in the beautiful town of Javea /Xabia. Surrounded by the waters of the Mediterranean, it is an ideal location for several water sports. The beautiful garden is home to bougainvillea and other tropical species as well as a magnificent seasonal swimming pool.

The interior offers the traveller the opportunity to rest in spacious, comfortable bedrooms with balconies overlooking the sea. The living rooms are spacious, bright and welcoming. Hand-made rugs cover its cream coloured marble floors on which various plants and pots with flowers are placed.
The regional restaurant of the Parador® serves dishes made from locally caught fish and crustaceans and also the farming products of the area. There is also a spacial menu those on a gluten free diet.

Particularly recommended are the: "Fideuas" which is a paella made with noodles;
Paella with duck and red peppers and Paella with vegetables of the season;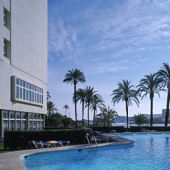 In Javea, there are beautiful churches like San Bartolomeu and Santa Maria de Loreto, the Monastery of Nuestra Senora de los Angeles, together with the Ethnographic Museum, and the Plana Mills.
Enjoy the Mediterranean traditions of Javea by visiting the San Juan Fires (June 18), the Feast of Virgen de Loreto (September 1), and "Moros y Cristianos" Feast (September 8).
Visit the wonderful beaches of Javea, Denia, Calpe and Benidorm. They are perfect for swimming, scuba diving, windsurfing or yachting. You may also go for an excursion to the capes of San Antonio, la Nao, or to the Rock of Ifach where you will see very impressive scenery.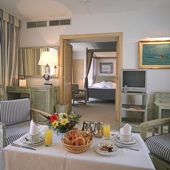 The lookouts of Javea are 12 vantage points to observe the sea starting at Los Molinos in the Montgo foothills. Travelling North to South will find the Cape of Sant Antoni, Punta de l'Arenal, Sequia de la Noria, Cala Blanca, Portixol, Falzia, cape Negre, cape la Nao, les Pesqueres, Ambolo, and the spectacular Granadella.
The Parador® of Javea has seventy twin bedded rooms. All the rooms have private bathrooms and also a telephone, satellite television, safe and a mini bar.
The Parador® Javea has air conditioning and central heating, currency exchange, lift, garage and parking facilities (without security and limited places), satellite TV, piped music, gift shop, gymnasium and sauna, garden, seasonal swimming pool, restaurant and bar. Facilities are available to hold business meetings.
Distance from the nearest airport is approximately 120 kms, train station is 45 kms away and the nearest port is 12 kms away.