The only building in the Nature Reserve on mount Teide, which rises 2,200 metres (7,000 feet) on the island of Tenerife

The island of the "Eternal Spring" with its unequalled climate, offers enormous contrasts and a wide variety of landscapes in its different areas.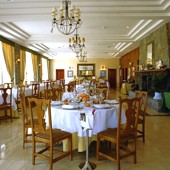 Guests at the Canadas del Teide Parador® have impressive panoramic views of the Teide cone, the Chaorra crater, and the White Mountain.
The interior recreates the ambiance of a mountain lodge both in the public rooms and bedrooms.
The Parador® restaurant specialises in the exquisite and original Canary cuisine. The chef particularly recommends: "Puchero canario" which is a Canary Island stew;
"Conejo al salmorejo" a succulent dish based on rabbit meat;
"Papas arrugadas y mojos" which are potatoes cooked in their skins.
Like all Parador® restaurants there is a special gluten free menu.
It is worthwhile going to the town of La Laguna which is declared as the Heritage of Mankind. Also visit the old towns of Villa de la Orotava and Garachico or go to the History, Science, and Cosmos Museums.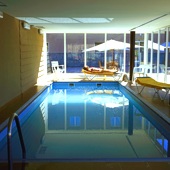 If you are a lover of plants, you should see the Millenary Drago (dragon trees) in Icod de los Vinos, and the botanical garden in Puerto de la Cruz.
Tenerife, the "Eternal Spring island" invites you to visit the many examples of the Canary Islands traditions and folklore. The feast of the carpets and the "Romeria" celebrated in the village of La Orotava, some 28 miles from the Parador® are worth a visit.
If you enjoy hiking, Mount Teide offers you an unmatched environment. Also worth visiting are the natural parks of Anaga and Teno.
With the clear airs of this mountain top being above most of the earths atmosphere, it is a good place for astronomers to view the heavens and the Parador® has a telescope for the use of the guests.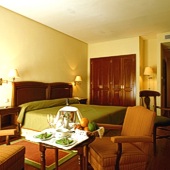 The Parador of Canadas del Teide has twenty seven twin bedded rooms, six rooms with double beds, one single room, two suites and one easy access room.
All the rooms have a private bathroom and there is a telephone, satellite television and a mini bar.
There is central heating, gymnasium, and a heated swimming pool. Due to being 7,000 feet above sea level, air conditioning is not needed.
The Parador® Canadas del Teide has a restaurant and bar, parking facilities (without security and limited places), currency exchange, lift, garden and satellite TV. Small conferences can be held and some rooms are specially equipped for the disabled.
Distance from the nearest airport is approximately 42 kms and the nearest port is 44 kms away.
Pets are accepted in this Parador® (conditions apply).