The El Hierro Parador® is located right by the sea opposite the Roque de Bonanza, where the sea and the volcanic mountains meet. This island was thought, for many centuries, as the westernmost boundary of the world.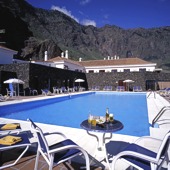 This modern building, dotted with beautiful balconies, has an elegant, colonial interior ideal for rest and tranquillity.

The parador® garden has an abundance of dragon trees, coconut palms and other plant species as well as a swimming pool.

The very comfortable bedrooms look out over the sea giving magnificent views. You will also hear the tempting murmur of the waves.
The Parador's® restaurant features the exotic Canary Island dishes often fish dishes and the local produce. There is a special menu for those on a gluten free diet.

Some traditional dishes are: "Alfonsinos con burgados", a fish with winkles.
"Quenefas de viejas con salsa de lapas" which are fish rissoles with a sauce made with limpets and sea urchins.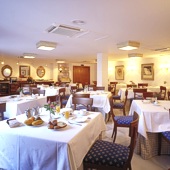 "Caldo de queso herreno", a soup incorporating the cheese of the island.

See the giant trees of the island. Also visit the vantage points of Jinamar, Isora and la Pena; the light tower of Orchilla and the Holy Tree of Garoe.
If your stay at the hotel is in May, enjoy the religious festival of the Feast of San Isidro. In July every four years, there is the descent of the Virgen de los Reyes. In December, there is the feast of Nuestra Senora de la Concepcion.
Visit the beaches of the island to swim, sail, fish or scuba diving. You may also enjoy a trip to the inland rock formations either on foot or by riding a mountain bike.
The Parador® of El Hierro has thirty seven twin bedded rooms and ten rooms with a double bed.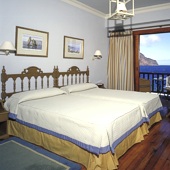 All the rooms have a private bathroom and also telephone, satellite television, safe and a minibar.
Parador® facilities include currency exchange, satellite television, telephone, conferences room, free internet access in communal areas, parking facilities (without security and limited places), piped music, restaurant and bar.
There is also a gymnasium, garden, jacuzzi, Turkish bath, Mini Golf, childen's play area, sauna, and a seasonal swimming pool.
Distance from the nearest airport is approximately 17 kms and the nearest port is 12 kms away.
The traditional restaurant is now closed. Meals are served at the 'Gastrobar' with an informal but complete offer. Breakfast and event services will still be served at the Parador®.
Pets are accepted in this Parador® (conditions apply).
The swimming pool is closed during the winter season.