This is a recently constructed Parador® with traditional Canary Island architecture in an area of great scenic beauty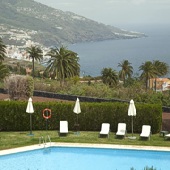 It is close to the capital of the island and also to the airport.The island is quiet and peaceful and thought by many to be the most beautiful of the islands.

It is surrounded by gardens, full of native plants and fruit trees, which are identified by their scientific names.
From Parador® of La Palma there are extensive views over the Atlantic ocean. It is thought that the first people to colonise this island came across these seas from Africa and adorned their caves with the rock paintings which nowadays can be seen in the many archaeological sites on the island.
These first tribes must have been hopeless sailors because there are well known differences between the people on the various Canary Islands indicating separate development. The islanders on each island have different features as well as social organisation, family structures and traditional houses.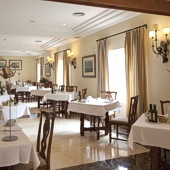 These early inhabitants, when sharing the harvest among the family group, would give a pregnant women a double ration but robbing a neighbour was a reason for honour and distinction.
The local festival of Santa Cruz is interesting to attend which is held on May 3rd. every year. The descent of the Virgen de las Nieves (Virgin of the Snows) takes place in Santa Cruz every five years.
Visits should be made to the National Park of Caldera de Taburiente, to the Llanos de Aridane, and to the International observatories in the Lime tree Forest in the Sauces area. Closer at hand the old quarter of Santa Cruz has been declared of "Historical and Artistic Heritage".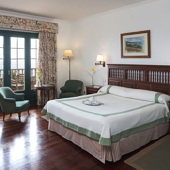 The restaurant specialises in the local dishes but does have international dishes on the menu, The is also a special gluten free menu. recommended dishes include watercress or chick pea broth made with varied meats. Also recommended are the fresh, grilled or parboiled fishes, served with a good "mojo" (typical Canary Island sauce). These dishes may be enjoyed accompanied by a glass of La Palma wine.
The hotel has 4 fully equipped conference suites catering from 20 persons to 200 persons.
The Parador® La Palma has sixty five twin bedded rooms and thirteen double bedded rooms.
In the rooms there is a telephone, television with canal plus, safe and mini bar.

La Palma Parador® also has heating, currency exchange, lift, parking facilities (without security and limited places), satellite television, gift shop, free wireless internet, air conditioning, gymnasium, sauna, seasonal swimming pool, garden, children play area, restaurant, bar, conference facilities and facilities for the disabled.
Distance from the nearest airport is approximately 5 kms and the nearest port is 8 kms away.