The Parador® of La Gomera has typical island architecture and views of the sea with the island of Tenerife and the Teide in the background.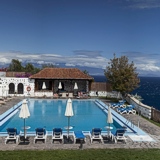 The interior is filled with marine references and navigational instruments used at the time that the ships of Columbus left this island for America.

In the living rooms the furniture combines Castilian and Isabelline styles. Although the decoration is personal, elegant and distinguished the local Canary Islands influence is evident.
The welcoming bedrooms, the view, the swimming pool and the garden filled with subtropical species make the Parador® like a part of paradise.
Local gastronomic delights, served in the restaurant, include:-
"Cazuela de pescados gomeros" which is a fish casserole;
"Lomos de conejo rellenos" based on succulent stuffed rabbit loin;
"Potaje de berros" being a watercress broth;
The restaurant also has a gluten free menu.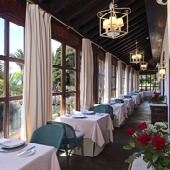 Walk to the main town of San Sebastian de la Gomera. Here you can visit the Conde Tower, the church of Asuncion, the Aguada Well and the Columbus House where Christopher Columbus lodged before his departure for America.
Experience the feasts of Gomera. In San Sebastian the feast is held on January 20. In the Gran Rey valley, on the night of Saint John see the festival with the traditional offering of flowers.

Held on October 2, there is the Feast of Virgen de Guadalupe in Puntallana which is near the Parador®.
Visit Garajonay National Park which is a World Heritage site. Here is an island to explore the amazing landscapes. Deep gorges, enormous rocks, the curious formations of the organs cliff and small beaches of black sand are a few of the sights you will never forget.

Climb up to the Garajonay Peak, for the views of the Atlantic Ocean, with the Tenerife Island and Mount Teide visible in the background.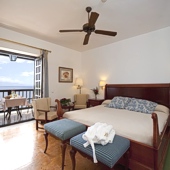 The La Gomera Parador® has fifty two twin bedded rooms, six rooms with a double bed and two suites.
In all the rooms you will find a private bathroom, telephone, television with TV canal plus, safe and also a mini bar.
Hotel facilities and services include currency exchange, lift, satellite television, telephone, parking facilities (without security and limited places), garden, seasonal swimming pool, bar and restaurant. Facilities are available to hold meetings at the hotel.
Distance from the nearest airport is approximately 40 kms and the nearest port is 1 km away.