This Parador® is in the beautiful Barreda-Bracho ancestral home located in the square of Santillana del Mar whose origins go back to the 8th century and now has National Monument status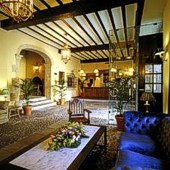 Friendly rooms possess wooden floors as well as traditional decoration consisting of forged metal lamps and paintings with motifs from the Altamira caves. The bedrooms, some with chimneys, are comfortable and offer beautiful pastoral and rural views.
The Parador® restaurant has a mix of international dishes and regional dishes on the menu. There is also a special gluten free menu.
The highland and Liebana stews are particularly praised as regional dishes. Receiving strong recommendation are the "cocido montanes": a dish of boiled white beans, vegetables, bacon and sausages:
Prime beef sirloin "a la plancha":
Salmon stuffed with smoked meat:
Hake from the Bay of Biscay on green asparagus:
The famous "sorropotun" (fish and vegetable stew):
and the typical dessert "quesada pasiega".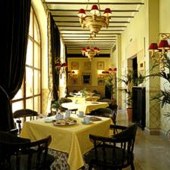 Santillana del Mar is one of the most beautiful and well-preserved villages in Spain.
The town has a zoo and nearby are the Altamira Caves which contain one of the most celebrated examples of prehistoric paintings in the world. For some they are nicknamed the "Sixtine Chapel" of Prehistory.
Enjoy the festivals of Santillana del Mar. On January 5th there is the Three Wise Men parade while June 28th is the feast of Santa Juliana. August 16th, is the Feast of San Roque.
By car, explore the Cabarceno Natural Park and the route of the Cares river and you will also Experience the impressive views of the "Picos de Europa" (Peaks of Europe) mountains.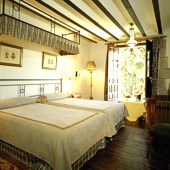 Near Santillana del Mar, you may go caving, bungee-jumping, hang gliding, climbing, microlight aircraft flying, and canoeing.
The Parador® of Santillana Gil Blas is approximately 119 kms from Bilbao and the famous Guggenheim museum, designed by the American architect Frank O. Gehry.
This Parador® has fourteen twin bedded rooms, nine double bedded rooms, two single rooms and three suites.
In the rooms you will find a telephone, television, TV canal plus, safe and a mini bar.
The Santillana Gil Blas Parador® has heating, air conditioning, conference facilities, currency exchange, lift, free internet access in communal areas, garden, parking garage and parking facilities (without security and limited places), satellite television, a restaurant and a bar.
Distance from the nearest airport is approximately 23 kms, train station is 8 kms away and the nearest port is 25 kms away.