Built in the style of a five story hunting lodge, the Parador® Cervera de Pisuerga is in the foothills of the Picos de Europa.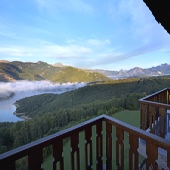 The views are of the Ruesga reservoir and the distant mountains of the Natural Park of Fuentes Carrionas.
The decor captures the spirit of the hunting lodge with wood panelled walls decorated with mounted heads of wild animals. Colour is provided by brightly painted ceramics.
The bedrooms are very spacious and comfortable with balconies from which the view can be enjoyed.
The restaurant windows have beautiful views of the Ruesga reservoir. The interior panelled walls are decorated with paintings of tempting foods.
The menu has traditional Castilian cooking. Recommended dishes include: "Sopa de ajo Burgalesa" a soup for lovers of garlic:
"Embutidos arteesanos" which translates as hand-made sausages;
"Cordero asado" being the delicious roast lamb;
.Trucha con torreznos" which is trout served with bacon slices;
"Leche frita" a dessert with custard and caramel on top;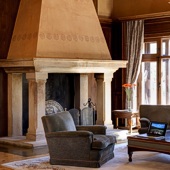 In the town visit the fortified church of Santa Maria del Castillo sitting on top of a hillock in the town. Inside there are delightful peaceful cloisters. Also in the town is an ethnographic museum which is worth a visit.
The summer festivals held in Cervera are: San Cristobal on the second Sunday of July;
Santa Marta held on July 29th and the
Festival of Nuestra Senora and San Roque held on August 15th and 16th every year;
It is worth exploring the small villages in the area and the Natural Park. It is an area rich in wild orchids and butterflies.
A car trip a little further brings to the dramatic mountains of the Picos de Europa where there are many paths waiting to be discovered. For the less energetic there are peaceful walks alongside the lakes in the area.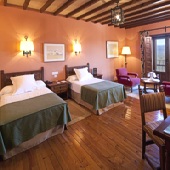 The Cervera de Pisuerga Parador® has seventy two twin bedded rooms, eight rooms with a double bed and eight single rooms.
All bedrooms have a private bathroom and a telephone, satellite television, and a mini bar.
The Parador® of Cervera de Pisuerga has central heating, parking facilities (without security and limited places), safe available in the reception, currency exchange, lift, satellite television, garden, wireless internet, children's play area, restaurant and bar. There are facilities to hold small conferences.
Distance from the nearest airport is approximately 132 kms, train station is 24 kms away and the nearest port is 132 kms away.
Pets are accepted in this Parador® (conditions apply).