The Toledo Parador® has an excellent view over the city of Toledo from its hilltop position on Cerro del Emperador (The Emperor's Hill).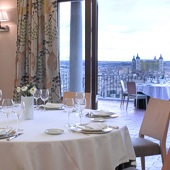 The view from the Parador® includes the river below, the old arab fortress and the cathedral of Toledo.
The cathedral is said to be the richest in Spain and has in its possession several paintings by Rubens, Bellini, Titian and El Greco.
Another of the treasures of the cathedral is the giant gold monstrance which weighs almost half a ton. It is said to contain the first gold brought back from the Americas by Columbus. The cathedral also has two illustrated thirteenth century bibles which are worth seeing.
El Greco's most famous painting is in the church of Santo Tome. Its title is 'The Burial of Count Orgaz". The name of the Parador® is in recognition of this famous painting.
The interior of the Parador® of Toledo is spacious and has luxury furnishing with comfortable furniture and wooden beams, staircases and banisters.
The Arab influence of the area is reflected in the Parador® by the rugs, copper ware and decorative tiles.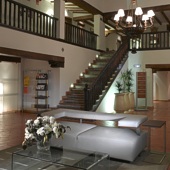 Some of the bedrooms have balconies and many look out over the city of Toledo in the valley below.
There are sun loungers and umbrellas surrounding the outside swimming pool from where there are extensive views,
The restaurant serves international and local dishes There is also a special gluten free menu
Typical dishes from Castile and La Mancha regions that are recommended include
"Perdiz a la toledana" which is partridge stewed in a casserole;
"Tortilla a la magra" being a ham omelette;
"Duelos y quebrantos" which is another egg based dish;
"Berenjenas rellenas", avocado stuffed with meat
The local sweet is:
"Ponche toledano", made with marzipan, a food introduced by the Moors.
There are many activities available in the area which include hang gliding, climbing, walking in the Toledo mountains and going by bicycle or jeep tours.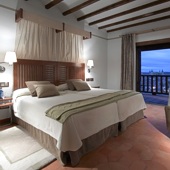 Within the streets of Toledo there are many small shops. The town is famed for the articles produced in steel. In previous generations the main trade was in swords but the craftsmen now are producing ornate scissors, jewellery etc.

This Parador® has fifty six twin bedded rooms, fourteen rooms with a double bed, three single rooms, three suites and two easy access rooms.
All the rooms have a private bathroom. They all have a telephone, satellite television, TV canal plus and mini bar.
The Parador® Toledo has air conditioning and central heating, currency exchange, lift, parking facilities (without security and limited places), satellite television, free wireless internet, a seasonal swimming pool, gift shop, restaurant and bar. Facilities are available for business meetings.
Distance from the nearest airport is approximately 100 kms and the nearest train station is 4 kms away.
Pets are not allowed in the Parador®.