Parador® of Santo Estevo is a converted Benedictine Monastery in Nogueira de Ramuin near Ourense.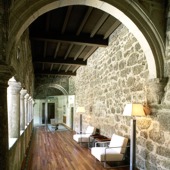 This area of wonderful scenery is known as "Ribeira Sacra" and is where the river Sil joins into the river Mino to form the Northern border of Portugal with Spain.
This monastery is first mentioned in documents of the 10th. century but it is believed to have been founded in the 6th. or 7th.century.
The building was declared a monument of historical and artistic significance in 1923.
The building has three cloisters and three different architectural styles, Romanesque, Gothic and Renaissance.
The facade is 18th.century and the staircase is of architectural interest.
Parador® Santo Estevo has a total of seventy five bedrooms along the three cloisters. There are fifty twin bedded rooms, twenty five with double beds, one single room and one suite.
All the rooms are different with some having magnificent views over the River Sil.
The Santo Estevo Parador® has a restaurant with a patio and there is a bar in the Porteria cloister. Other facilities include air conditioning, central heating, currency exchange, free internet access in communal areas, garage and facilities for the disabled.
There is a banquet room and a meeting room with the gardens having a large variety of local plants.
The Parador® restaurant serves both international and local dishes. There is also a gluten free menu.
The chef is proud of the wide selection of recipes based on fish from the River Sil and other traditional dishes of the region.
The town of Ourense, 28 kilometres away, is the birthplace of the singer Julio Iglesias and also of the family of Fidel Castro.
The old quarters are very interesting with lively squares near the cathedral and three hot springs near Plaza Mayor.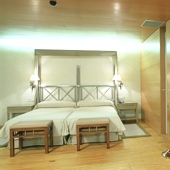 The Galicia region is at the western end of Europe and was once considered by the Greeks to be the edge of the world.
Galicia was inhabited by the Celts who first arrived in the region 1000 years B.C..
The discovery the tomb of the apostle St. James was made in the area and his remains are now in the cathedral at Santiago de Compostela.
The region became one of the most important pilgrimage centres of the Christian church in the Middle Ages and still is the detonation for thousands of visitors each year.
Distance from the nearest airport is approximately 110 kms, train station is 24 kms away and the nearest port is 110 kms away.