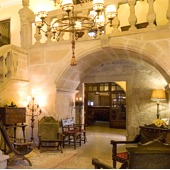 Located in the historical centre of town, this Parador® is an old Renaissance palace dating from the 16th century which was formerly the residence of the Counts of Maceda.
Distinguished, stately and noble describe the interior which boasts regal staircases, antiques and illustrious furniture.
The carved stone staircase leads the way to the welcoming, comfortable bedrooms.
The dining room has an aristocratic appearance completing the harmony of the common areas decorated with mirrors, paintings and candelabras. As is usual in the paradors®, the menu concentrates on the regional cooking. There are however international dishes and a special gluten free suggestions.
The main menu is varied giving guests the chance to taste the various meats, fishes and shellfishes of the region. Everything may be accompanied by the excellent local Albarino, Ribeiro or Mencia wines.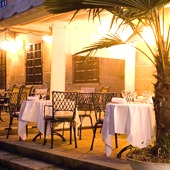 Located in a pedestrian zone in the oldest part of Pontevedra, walking is essential for sightseeing the porticos and the many little palaces in the town.
Visit the Basilica of Santa Maria la Mayor, the Church of Peregrina, the Convent of San Francisco and the museum.
Nearby is Vigo, a big and thriving city located by a beautiful ria (valley that is submerged under the sea).
In Parador® of Pontevedra the most important festivals are the pilgrimage of San Benitino de Lerez, Feast of Santiaguino del Burgo, Peregrina Festival (August) which often includes bull fighting and the Carnival on Shrove Tuesday.
The beaches of Bueu, A Lanzada and Sanxenxo preserve all their natural beauty. Here you may go swimming, sailing, and surfing and other beach sports.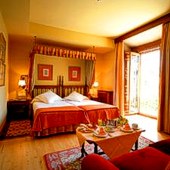 Other activities near the Parador® are: golf, horse riding, cross country driving, visiting the aquarium or going for a dive inside the tourist submarine in the village of O Grove. Parador® Pontevedra has thirty twin bedded rooms, eleven double bedded rooms, three single rooms, two Suites and one quadruple room.
In the rooms you will find a telephone, television, TV canal plus, safe and a mini bar.
The Pontevedra Parador® also has central heating, air conditioning, currency exchange, lift, parking facilities (without security and limited places), satellite television, gift shop, restaurant, bar and conference facilities if required.
Distance from the nearest airport is approximately 28 kms, train station is 2 kms away and the nearest port is 6 kms away.