A mixture of history, art and tradition, the Hotel Parador® Santiago de Compostela forms a magnificent corner of the main square with the Cathedral in one of the most visited regional capitals in the world.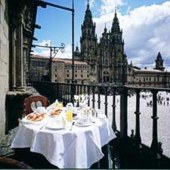 Also known as Hostal dos Reis Catolicos it was originally a Royal Hospital and dates back to 1499. It provided lodging and shelter for the numerous pilgrims making their way to Santiago, an age old practice which continues to this day.
Considered to be the oldest hotel in the world it is also one of the most luxurious.

It has four cloisters of immense beauty, elegant reception rooms, spectacular bedrooms and a luxurious dining room.
The restaurants of the Parador® group hotels offer a wide and varied menu. As well as international cuisine they also offer a diabetic, vegetarian and gluten free option.
The restaurant at the Santiago de Compostela Hotel also specialises in Galician dishes and has revived ancient recipes and created its own. For example sea bass fillets baked in Iberian bacon and served with mint broad beans; scallops stuffed with sea urchin; sirloin steak in a cebreiro cheese sauce and for dessert, perhaps filloa crepes filled with apple compote.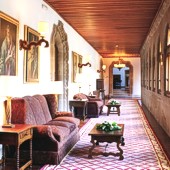 A stroll through Santiago is of great interest. Visit the Cathedral, the "Plaza do Obradoiro" where the Parador® is located, the Gemirez and Rajoy Palaces, the Church of Santa Maria del Sar, the Monastery of San Marin Pinario, the Museum of Tapestries, the Church of Santa Maria Salome and the Museo do Pobo Galego.
The main religious festival is on July 25th when solemn Mass is celebrated with the National Offering to the Apostle Santiago (Saint James) who is buried in the Cathedral. The processions during Holy Week are also very impressive.
The Galicia region is located in North West Spain and is a very beautiful and interesting area to visit. Take a tour by car and see the cliffs of the Costa do Morte (Death Coast) which are very impressive as are the splendid views that you will encounter at Finisterre (Land's end). Drive around the Spanish Rias and visit the many delightful small fishing towns and villages.
The activities you may enjoy in this area include pony trekking, hang gliding, rafting, sailing, canoeing, tennis, swimming and fishing.
The Santiago de Compostela Parador® has 6 suites, 105 twin rooms, 14 double rooms, 2 single rooms and 1 easy access room.

All rooms have a telephone, Satellite television, TV Canal Plus, safe and mini bar.
Facilities at the Parador® Santiago de Compostela include restaurant, bar, lift, air conditioned rooms, heating, free wireless internet, conference facilities, gift shop, currency exchange and undercover garage parking. There are also facilities for disabled persons.
The Hotel Santiago de Compostela is approximately 15 kms from the nearest airport, 3 kms from the Railway Station and 70 kms from the nearest port.