The Parador® is located below the cathedral near the border river in Tui (Tuy) in Galicia.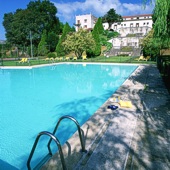 The Tui Parador® has granite walls and chestnut wood on the floors, ceilings, beams and staircases and is a recreation of the typical Galician country houses.
The comfortable bedrooms are decorated with soft shades and rustic furniture achieving a friendly and peaceful atmosphere. Outside is a splendid swimming pool and a beautiful garden.
The food in the parador® restaurant is a mix of international dishes and Spanish dishes, There is also a special gluten free menu.
Worth trying are the dishes based on veal, fish and seafood and specialised dishes, such as:
Lamprey Tui style.
Eels with garlic
Carmel pudding
Pececitos, a sweet eaten in the convents of Galicia,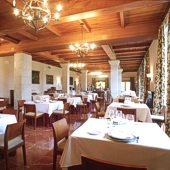 Many towns in Galicia have two spellings of their name, One is the Spanish spelling and the other in Gallego,the local language still widely used in Galicia,
Take a walk uphill and visit the cathedral, the churches of San Bartolome, San Francisco, San Telmo and the Bishop's palace.
Cross the Mino river and the border to Portugal to visit the near-by walled city of Valenca do Minho. The fort was built to repel the Spanish but nowadays the shop owners like to relieve them of their Euros,
The festivals of Tui worth visiting are Carnival on Shrove Tuesday, San Thelmo's day on Easter Sunday and the Tui Eel festival on the: 1st Sunday after Easter. In August there is the international canoeing descent of the Mino river.

Explore by car the Natural Park of Monte Aloia or go down river to see the prehistoric settlement on Mount Santa Tecla, For a summer days outing, go by ferry from Vigo or Bayona to the Iles de Cies (Islands of the Sky) and walk through the camp ste and have lunch at the bistro near the end of the beach.
Reception can arrange bicycle rides, four wheel drive safaris, pony trekking, flying in a hang-glider or microlight, canoeing, rafting or water skiing, Or you can swim or play tennis at the Parador®.
The Parador® of Tui has fourteen twin bedded rooms, fourteen rooms with a double bed, three suites and one easy access room. In the rooms there is air conditioning, telephone, satellite television, TV canal plus, safe and a mini bar.
The Parador® has central heating and air conditioning, currency exchange, lift, free internet access in communal areas, parking facilities (without security and limited places), satellite television, gift shop, restaurant (Gastrobar), bar and facilities for the disabled. Other facilities include a garden with children's playground, tennis court and a seasonal swimming pool.
Distance from the nearest airport is approximately 25 kms, train station is 5 kms away and the nearest port is 30 kms away.
Meals are served at the 'Gastrobar' with an informal but complete offer. Breakfast and event services will still be served at the Parador®.