This Parador® is in a imposing castle, whose construction commencing in 1437. It was the former residence of the Dukes of Feria, one of Spain's great families.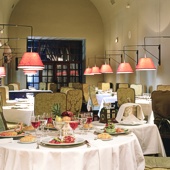 The spectacular façade of this castle / palace shows its importance in the fighting period in which it was built.
Nine battlement towers in the walls guard the grandiose interior which still has the original beautiful coffered ceilings
There are large chests, ironwork, handrails and several other decorative details which belonged to the former palace.
The elegant and spacious bedrooms which in the past had Hernan Cortes, a controversial Spanish conquistador in the early 16th century, as a guest.
Outside the seasonal swimming pool sits is in the well cared for garden.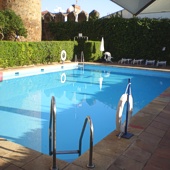 The restaurant has a special menu for those on a gluten free diet. Local regional dishes include:
Caldereta de cordero - lamb stew.
Migas extremeñas - breadcrumbs
Bacalao monacal - cod
Zorongollo - tomato salad
Cheesecake from La Serena
Iberian pork loin with Ibores cheese,
In Zafra visit the Santa Clara Convent, the Big and the Small Squares and Palace of the Marqués de Solanda.
There is a cattle fair is in the first week of October while in Jerez de los Caballeros, the Ham Fair is in the first week of May. Luna al Fuego, a 17th century festival, takes place during the last week of June.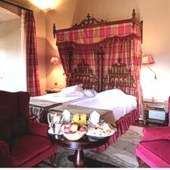 In the countryside surrounding the hotel are many sporting opportunities, You can go swimming, walking, horse riding or mountain biking.
If a tour by car is more appropriate, the route of the Duchy of Feria will takes you to villages like Feria, Salvatierra and Almendralejo while the route of the Templars will takes you to Burguillo del Cerro, Jerez de los Caballeros and Frenegal de la Sierra.
The Parador® of Zafra has thirty seven twin bedded rooms, nine rooms with a double bed, one single room, two suites and two easy access rooms.
All the rooms have a private bathroom and also a telephone, television with TV canal plus, safe and a mini bar.
The Zafra Parador® has air conditioning, central heating, currency exchange, lift, satellite television, free wireless internet, garden and a seasonal swimming pool . There is a restaurant (Gastrobar) and bar. Facilities are available to hold business meetings.
Distance from the nearest airport is approximately 54 kms and the nearest train station is 1 km away.
The traditional restaurant is now closed. Meals are served at the 'Gastrobar' with an informal but complete offer. Breakfast and event services will still be served at the Parador®.
Pets are not allowed in the hotel.