The Guadalupe Parador® uses the buildings of the former Hospital of St. John the Baptist, a historical 15th century building.
The comfortable, friendly Parador® has whitewashed arches adorned with vegetation and many of the ceilings are rough-hewn timber.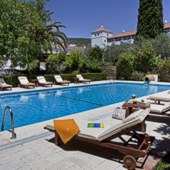 The public rooms have ancient maps, engravings and tile plaques. There are also low copper braziers once used to warm the pilgrims who came here to worship at the shrine of the Virgin of Guardalupe.
A courtyard with citrus trees surrounds the Parador® and there are also views across the patio to the garden and the secluded swimming pool. There is also a tennis court in the garden.
The simple but delicious local cooking is served in the restaurant. There is also a special menu for those on a glutin free diet.

Dishes to be tried include: "Bacalao monacal" which is reconstituted dried and salted cod served with potatoes and spinach;
"Ajo blanco extremeno" a dish for garlic lovers;
"Pollo a lo padre Pedro", chicken to the recipe of Father Pedro;
"Caldereta de cordero" which is a lamb stew;
"muegado de Guadalupe" a fried sweet dish;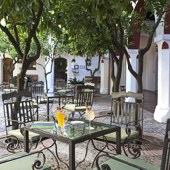 The 14th Monastery is the most impressive attraction of this city which has been declared a National and Artistic Monument. It was founded by King Alfonso XI after the Battle of Salado.
In Guadalupe a visit should be made to the museums of fabrics and miniatures and also the San Jeronimo Chapel.
Trujillo deserves a visit and las Villuercas makes an interesting excursion..
The Feast of Virgen de Guadalupe is held every 8th of September. The "Romeria" (pilgrimage) to Mirabel is on May 3 and the "Hispanidad" (Columbus Day), on October 12.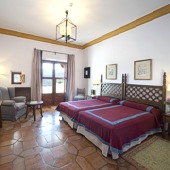 The Monfrague National Park is an ideal environment for walking, cycling, riding and fishing.
The Parador® of Guadalupe has twenty six twin bedded rooms, fourteen rooms with a double bed, one single room and one suite, all of which have a private bathroom.
Every guest room has a telephone, satellite television, safe and a mini bar.

The Parador® has air conditioning, central heating, restaurant and bar, currency exchange, lift, garage, cable TV, piped music, garden and seasonal swimming pool. Facilities are available for business meetings.
Distance from the nearest train station is 65 kms.