Beyond any doubt the main attraction here is the theatre and the amphitheatre at Merida. Imagine fourteen thousand people shouting, watching the beasts and the gladiators fighting.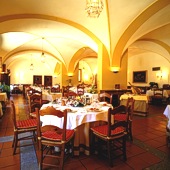 This Parador® keeps the structure of the 18th century convent that was built on the remains of a temple dedicated to the Concordia de Augusto.
Roman, Mudejar and Visigothic artifacts adorn the interior creating an intimate, welcoming atmosphere. The main sitting room is in the former chapel of the convent,

The inner courtyard, and the beautiful Mozarabic gardens are two of its most noteworthy areas.
Numerous gastronomic suggestions are offered by the restaurant.

Try the "criadillas de la Tierra" (truffles), "caldereta extremena" (stew), the assortment of "gazpachos" (cold soups), and Almoharin figs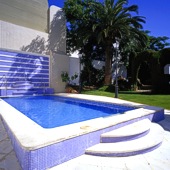 As well as the international dishes on the menu, there are specialist dishes for those requiring a gluten free diet
A visit to the Roman Theatre and the Amphitheatre of Merida is a must. The National Museum of Roman Art displays many attractions.

You should visit the villages of Alange, Dolmen de Lacara, Medellin and Trujillo not forgetting the cities of Caceres and Badajoz.

The dams of Cornalvo and Proserpina are also worth seeing.
The Festival of Classical (Greek and Roman) Drama is held every month of July in Merida. In the first week of September, you should go to the Fair of Merida, and to the Feast of Santa Eulalia Martir held every 10th of December.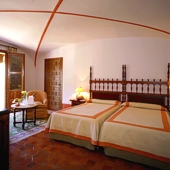 This region offers you excellent possibilities to go fishing or hunting. Other recommended sports are tennis and golf which can be played less than 3 miles from the Parador®.
The Parador® has seventy twin bedded rooms and nine double bedded rooms and three suites.
In the rooms you will find a telephone, television with canal plus, mini bar and safe. Also there is heating, air conditioning, piped music, currency exchange, lift, garden, garage and parking facilities (without security and limited places), satellite television and free wireless internet. The Parador® also has a seasonal swimming pool, sauna, gymnasium, restaurant, bar and conference facilities. There are facilities for the disabled.
Distance from the nearest airport is approximately 55 kms and the nearest train station is 0.5 kms away.