The Convent of San Francisco was built by the Davila de la Cueva family in 1596 and is now a four star Parador.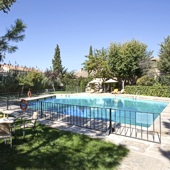 It is located in a historic position of great interest close to the most attractive areas of the town.
The interior of the Parador® has an elegant, serene atmosphere and this is reflected in the bedrooms and public areas. There are beautiful galleries which feature much rich wood and latticework.
There are 14 inner courtyards and a splendid garden which was used, in former times, for social functions.
The wine cellar has been converted into a bar with a 'Cervantine' ambiance.
Unlike most of the former convents, the Boardroom has an austerity which one would associate with a convent. This is in sharp contrast with the Louis 15th room which is furnished in keeping with the luxury of that period.
The bedrooms, originally the monastic cells, are a haven of peace and tranquility.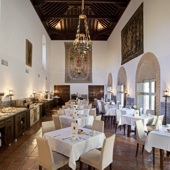 The restaurant serves traditional La Mancha cuisine and there is a gluten free menu. Some of the traditional dishes have an Arabic influence from the period when the region was under the control of the Moors from North Africa.
Specialities to be tried include :
"Pisto Manchego", a vegetable salad;
"Berenjenas", aubergine dish;
"Mojote" and "Ttiznao", two cold dishes suitable on a hot day;

In the area you may care to visit the Corral de Comedias (the old theatre), the Convent of Calatrava, the Palace of Fugger, the Old University, Plaza Mayor, and the Cathedral.
In July, the Almagro International Festival of Classical Drama is held.
Other interesting events are the feasts of Virgen de las Nieves and San Bartolome which are both held in August.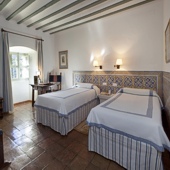 The Tablas de Daimiel National Park, approximately 30 kms away, have now recovered after being adversely affected by years of drought.
The Almagro Parador® has forty three twin bedrooms, two single bedrooms, five double bedrooms, three suites and one bedroom for the disabled.
In the rooms you will find a telephone, television with canal plus and mini bar.
The Parador® of Almagro has heating, air conditioning in the dining room, lift, restaurant, bar, free internet access in communal areas, parking facilities (without security and limited places), currency exchange, conference facilities, satellite television, garden, seasonal swimming pool and a gift shop. The Parador® Almagro has facilities for the disabled.
Distance from the nearest train station is 1 km.