A modern Parador® in mature grounds with trees to shade from the summer sun. This area was made famous by 'Don Quixote'. Many windmills remain in the area but nowadays only a few are working. Some have become ruins but luckily many are preserved as museums.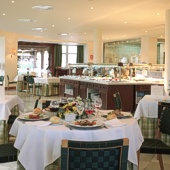 Parador® Manzanares is between two of the most beautiful nature reserves in the country, the Lakes of Ruidera and the Tablas de Daimiel.
Lovers of wine will prefer to travel the twenty kilometres to the Valdepenas wine cellars.
The building has white walls and Arabic tiles and built in the style of a La Mancha country mansion. The gardens are filled with trees, shrubs, gardens and plants.
In this area is the outdoor swimming pool and the children's play area.
The decor of the interior is with wooden furniture, leather chairs and wrought iron wall lights, giving a friendly, comfortable atmosphere.
The bedrooms have tiled floors, a desk and a coffee table. The windows open out onto a balcony giving views of the surrounding countryside.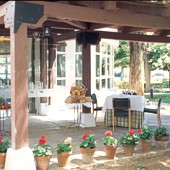 The restaurant serves international dishes but specialises in the dishes of region. The recommended regional specialties include: "Galiaho" being a cold soup made with garlic, rabbit, partridge, ham, rosemary, thyme and bay leaves;
"Mojete de conejo" which is rabbit cooked with pine seeds;
"caldereta manchega", a delicious lamb stew;
"Mostillo" which is cooked grapes flavoured with aniseed, cinnamon and cloves; Manzanares is a busy commercial town but around the Main Square there are buildings from the the times of its previous glory when the town and surrounding area were owned by Alvaro de Bazan.
Worth visiting are the Piedras Bonas castle, and the little Veracruz church.
It is also worth visiting Almagro, where there is another Parador®, to see the "Corral de Comedias" (old theatre) and the Main Square of Almagro.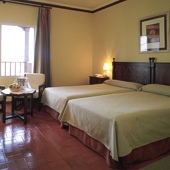 Manzanares is the home of the Regional Rural Fair which is held 10 to 20 July each year. Another annual event is the Drama Festival held in Almagro every July.
The main religious festival celebrates Nuestro Padre Jesus del Perdon and is held every September 14th.
Of course you should visit the Tablas de Daimiel reserve, Lakes of Ruidera, and and also the Cabaneros National Park.
The Manzanares Parador® has fifty rooms, forty four with twin beds and six with double beds. All bedrooms have private bathroom.
In the rooms you will find a telephone, television, TV canal plus, and a mini bar.
The Parador® of Manzanares has air conditioning and central heating, currency exchange, lift, garage, parking facilities (without security and limited places), garden and children's play area, seasonal swimming pool, free wireless internet, restaurant and bar. Facilities are available to hold business meetings.
Distance from the nearest airport is approximately 190 kms and the nearest train station is 3 kms away.