Rising up on the fertile plain of the river Agueda this Parador® has an ivy covered keep which is an unsurpassable lookout over the Campo Charro.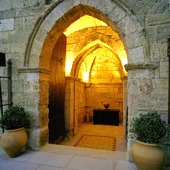 A beautiful Parador® near to the centre of Ciudad Rodrigo, an old town with many interesting buildings..

Walk through the well cared for garden then go inside the Parador® of Ciudad Rodrigo where you will find a variety of traditional furniture of the Castile region, a splendid courtyard and cheerful bedrooms, some with exceptional views.
The dining room decor features the stone arches of the construction. There is a gluten free menu as well as the regional food of the Salamanca in which the chef specialises.

Specially suggested are:
Roast meat dishes;
Iberian sausages and hams;
"huevos farinato" which is an egg based dish;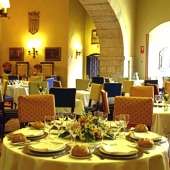 In Ciudad Rodrigo visit the cathedral, the Main Square, and the churches of San Agustin, San Pedro, San Andres, de la Orden Tercera.

Visit the city of Salamanca and visit its museums and monuments and old buildings, particularly the Main Square and the old University.
Enjoy the Carnivals of Toro and the Charrada Festival, on Resurrection Saturday or Sunday during Easter.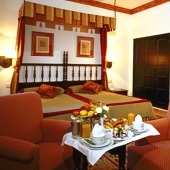 Go to the Salamanca countryside and the valley of the Agueda river. There you will find a unique environment where you can explore by horse, foot or on a mountain bike.
The Ciudad Rodrigo Parador® has twenty one twin bedded rooms, eleven rooms with double beds, two suites and one easy access bedroom.
All the rooms have private bathrooms. Also all rooms have a telephone, television, TV canal plus, safe, air conditioning and mini bar.
There is heating, air conditioning, parking facilities (without security and limited places), garden with children's play area, currency exchange, satellite television, restaurant and bar. Some rooms are specially equipped for the disabled.
The Parador® Ciudad Rodrigo has no swimming pool but the river has some lovely bathing areas.
Distance from the nearest airport is approximately 95 kms and the nearest train station is half km away.
Pets are accepted in this Parador® (conditions apply).