The Parador® of La Granja is a remarkable example of the rich architectural legacy of Real Sitio (Royal property).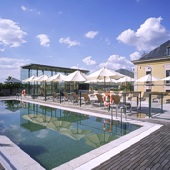 The town of La Granja de San Ildefonso has always been associated with different generations of the Spanish royal family. Located in the town is a 17th Century Royal Palace which is now a National monument of impressive beauty valued not only for its architectural merit, but also for its beautiful gardens decorated with statues and fountains.
The La Granja Parador® is located in an area of outstanding natural beauty and also of historic interest. It is only 11 kilometers from Segovia and 101 kilometers from Madrid. A world heritage site in the heart of the Sierra de Guadarrama.
The Parador® comprises two separate buildings. The first, where the hotel accommodation is situated, was originally the Casa de los Infantes (Princes' house), constructed in the 18th Century by Carlos III for the princes Gabriel and Antonio.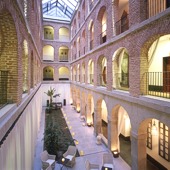 It was designed by Jose Diaz Gamones in the Baroque style and is a classical rectangular shape with three interior patios.
The second building was the Cuartel General de la Guardia de Corps, formerly the Royal Bodyguard's barracks, today it is a modern conference centre.
The Parador® has a total of 77 twin bedrooms, 23 double bedrooms, 14 suites, 11 bedrooms with lounge and 2 easy access bedrooms all with private bathroom, air conditioning, central heating, telephone, television, safe and minibar.
Other facilities available at the Parador® include a spa, bar, restaurant, wireless internet, currency exchange, lift, gift shop, gymnasium, garden and a seasonal swimming pool.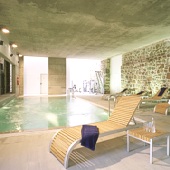 The restaurants of the Parador® group hotels offer a variety of dishes including a selection of local and regional specialities. They also offer a diabetic, vegetarian and gluten free option.
The Parador® La Granja has 16 meeting rooms of various sizes, two of them have a capacity for 500 persons. They are suitable for seminars, meetings, conferences and any type of business or social event. In addition, there is a full range of the latest generation of technical and audiovisual equipment.
This Parador® has facilities for disabled guests.
Distance from the nearest airport is approximately 95 kms and the nearest train station is 11 kms away.