The Parador® of Lerma was built in successive phases between 1601 and 1617, on the site of a 15th century castle, according to the plans of architect Francisco de Mora.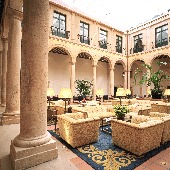 The castle was originally built as a place of lodging, rest and general enjoyment for King Felipe III by Francisco Gomez de Sandoval y Rojas, the first Duke of Lerma.
The building has a central courtyard surrounded by two columned arcades. The first has 20 Tuscan columns with semi-circular arches while the second has 20 Ionic columns.
The palace has been restored and converted into a Parador® for 133 guests.
The Parador's® cuisine is centred on typical regional products such as suckling lamb, quail and partridge.
There is hare during hunting season while other typical fare includes the traditional cocido (chickpea stew) of Castile, the hearty 'olla podrida' stew and medieval style lentils.
For dessert, try the 'Emes' cookies, San Blas roscas, the mostachones cookies, or the wide variety of cakes and sweets made by the nuns of the order of St. Clare in the city's convent.
22 kms away from Lerma is Covarrubias, Worth visiting are the collegiate Church of San Cosme y San Damián (15th century), the Church of Santo Tomás (12th c.), and the squares of Dona Urraca and Dona Sancha.
A little further is the 18th -century Monastery of Santo Domingo de Silos, where you can hear the Gregorian chants sung by the monastery's monks. The nearby gorge of La Yecla is also worth the visit.
August is the month when everything happens in the region. The Baroque festival features, among other things, a two organ concert at the Collegiate church performed on instruments dating from the year 1615.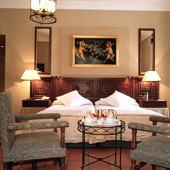 As part of this festival, there is a 17th century theatrical performance in the Plaza Mayor, as well as related conferences and exhibitions. Other local medieval celebrations take place throughout the month.
The Parador® Lerma has thirty six twin bedrooms, twenty three double bedrooms, two suites, one duplex, seven single bedrooms and one easy access bedroom. All bedrooms have television, in-room safe, minibar.
There is also a garage, bar, restaurant, currency exchange, lift, piped music, gift shop, telephone, internet access in communal areas, heating and air conditioning.
The 18 hole Lerma golf course is only 5 kilometres from the Lerma Parador®.
From 1 to 10 September the town of Lerma holds its local festival. This includes fairground rides, music and much merriment which can be heard in the immediate vicinity of the Parador®. During this period the Parador® cannot guarantee the usual peace and quiet.
Distance from the nearest airport is approximately 200 kms, train station is 36 kms away and the nearest port is 185 kms away.